Reframing Organizations: Artistry, Choice and Leadership, 4th Edition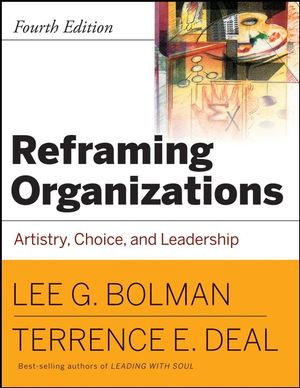 Description
First published in 1984, Lee Bolman and Terrence Deal?s best-selling book has become a classic in the field. Its four-frame model examines organizations as factories, families, jungles, and theaters or temples:
The Structural Frame: how to organize and structure groups and teams to get results
The Human Resource Frame: how to tailor organizations to satisfy human needs, improve human resource management, and build positive interpersonal and group dynamics
The Political Frame: how to cope with power and conflict, build coalitions, hone political skills, and deal with internal and external politics
The Symbolic Frame: how to shape a culture that gives purpose and meaning to work, stage organizational drama for internal and external audiences, and build team spirit through ritual, ceremony, and story
This new edition is filled with new case examples such as Hurricane Katrina and profiles of great leaders such as Mother Theresa, Thomas Keller, and others. In addition, the book updates the ""Organizational Theory's Greatest Hits"" text boxes throughout, and increases geographic, cultural and gender diversity in examples and text. It also features an enhanced online teacher's guide with a new test bank, as well as updated PowerPoint slides, teaching ideas and experiential activities, and links to resources.
PART ONE Making Sense of Organizations.
ONE Introduction: The Power of Reframing.
TWO Simple Ideas, Complex Organizations.
PART TWO The Structural Frame.
THREE Getting Organized.
FOUR Structure and Restructuring.
FIVE Organizing Groups and Teams.
PART THREE The Human Resource Frame.
SIX People and Organizations.
SEVEN Improving Human Resource Management.
EIGHT Interpersonal and Group Dynamics.
PART FOUR The Political Frame.
NINE Power, Conflict, and Coalition.
TEN The Manager as Politician.
ELEVEN Organizations as Political Arenas and Political Agents.
PART FIVE The Symbolic Frame.
TWELVE Organizational Symbols and Culture.
THIRTEEN Culture in Action.
FOURTEEN Organization as Theater.
PART SIX Improving Leadership Practice.
FIFTEEN Integrating Frames for Effective Practice.
SIXTEEN Reframing in Action: Opportunities and Perils.
SEVENTEEN Reframing Leadership.
EIGHTEEN Reframing Change in Organizations: Training, Realigning, Negotiating, and Grieving.
NINETEEN Reframing Ethics and Spirit.
TWENTY Bringing It All Together: Change and Leadership in Action.
TWENTY-ONE Epilogue: Artistry, Choice, and Leadership.
Appendix: The Best of Organizational Studies: Scholars' Hits and Popular Best-Sellers.
Many updated company examples, along with new examples describing both domestic and international companies, such as 3M, Best Buy, BMW, Circuit City, eBay, Gazprom, Google, Home Depot, Microsoft, Publix supermarkets, Raytheon, Starbucks, Subway, UPS, and Wal-Mart
New case examples covering managers like Bob Nardelli and successor Frank Blake of Home Depot, Lou Gerstner of IBM, James McNerney of 3M and Boeing, and Lisa Brummel of Microsoft
New examples involving the FAA and NORAD responses to the 9/11 attacks, as outlined in the report of the 9/11 commission; FEMA and Hurricane Katrina; the rise of the ""green"" movement in the United States; and controversy surrounding ""school choice"" and the ""No Child Left Behind"" act
Updated content and expanded discussion of numerous topics, including self-managing teams, dramaturgical and institutional theory, and change theory
Includes coverage of new topics including the ""blink"" process, ""black swans,"" and gay rights
The authors have distilled the organizational literature into a comprehensive approach for looking at situations from more than one angle. Their four frames view organizations as factories, families, jungles, and theaters or temples:
The Structural Frame: how to organize and structure groups and teams to get results
The Human Resource Frame: how to tailor organizations to satisfy human needs, improve human resource management, and build positive interpersonal and group dynamics
The Political Frame: how to cope with power and conflict, build coalitions, hone political skills, and deal with internal and external politics
The Symbolic Frame: how to shape a culture that gives purpose and meaning to work, stage organizational drama for internal and external audiences, and build team spirit through ritual, ceremony, and story