Regional Economics and Policy, 3rd Edition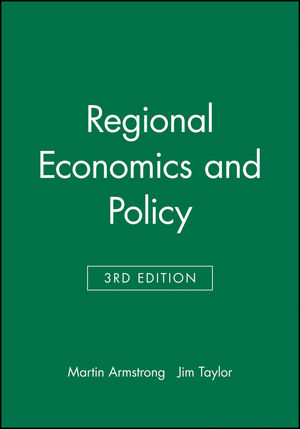 Regional Economics and Policy, 3rd Edition
ISBN: 978-0-631-21713-8
Jul 2000, Wiley-Blackwell
448 pages
Description
The revised edition of this classic text contains discussions of the latest theoretical developments in regional economics and reviews recent changes in regional policy and institutions in the European Union. New case study material based on extensive academic research has been added throughout the book.
Preface.
Part I: Regional Economics.
1. Regional Income and Employment Determination.
2. The Input-Output Approach to Modelling the Regional Economy.
3. Regional Growth Disparities: Neoclassical Perspectives.
4. Export Demand Models, Agglomeration and Cumulative Growth Processes.
5. Interregional Trade.
6. Interregional Migration.
7. Regional Unemployment Disparities.
Part II: Regional Policy.
8. The Case for Regional Policy: British Experience.
9. Regional Policy Instruments.
10. Indigenous Development: Small and Medium-Sized Enterprises and Technological Progress.
11. Regional Policy and the European Union.
12. Regional Policy and Devolution.
13. The Evaluation of Regional Policy.
Bibliography.
Index.
"The authors' careful scholarship, intellectual rigour and clear analysis of mainstream theory means that this new edition of
Regional Economics and Policy
will continue as a standard work for students. The book provides an excellent synthesis of theoretical and empirical work on regional economic concepts and theories, leading to clear and important lessons for policy. It successfully brings updated literature and new material to bear on the key issues in the field."
Ronald McQuaid, Napier University
"This is an excellent textbook on regional economic theory and policy. This edition has been comprehensively revised to take account of the recent revival of interest in regional issues and the consequent burgeoning literature in the field. The book presents recent developments in the context of earlier work and both are discussed in a succinct and masterly fashion. This book will continue to remain the definitive overview of the subject and will be widely consulted by all those interested in the regional aspects of economic activity." John McCombie, University of Cambridge
contains discussions of the latest theoretical developments in regional economics
reviews recent changes in regional policy and institutions in the European Union

features new case study material based on extensive academic research in Europe and the USA