Regulating Managed Care: Theory, Practice, and Future Options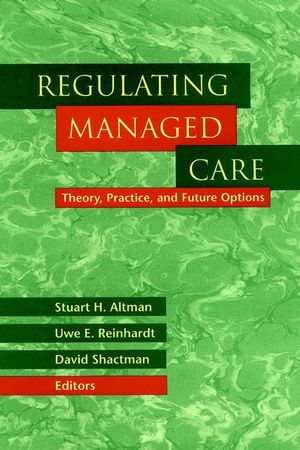 Regulating Managed Care: Theory, Practice, and Future Options
ISBN: 978-0-787-94783-5 June 1999 Jossey-Bass 400 Pages
Description
What should be government's role in a market-oriented health care system?

What's the appropriate amount of regulation?

Who should regulate-states, federal government, or market forces?

What role do the courts play in this regulation?

Are there existing models that might guide leaders in designing an effective regulatory structure?



Welcome to the great managed care debate. In Regulating Managed Care, twenty-six of the nation's leading health policy experts give health care administrators, clinicians, and policy makers insight into the issues behind this critical exchange and provide leaders with a road map to assess the policy options available to protect the quality of our health care delivery system.



"This collection of papers, from an extraordinary group of authors, makes a valuable contribution to the ongoing policy debate and will be of interest to anyone concerned with the future of our health care system."---Charles A. Sanders, retired chairman and CEO Glaxo Inc. and former general director, Massachusetts General Hospital
Foreword (Steven A. Schroeder).

Acknowledgments.

The Editors.

The Contributors.

Introduction: The Philosophy of Regulation.

Section I: The Role of Regulation in a Market-Oriented Health Care System.

1. Regulating Managed Care: An Overview (Walter Zelman).

2. The Current Status of State and Federal Regulation (Patricia Butler).

3. Why Should Managed Care Be Regulated? (Mark Pauly and Marc L. Berger).

4. Macro- Versus Microregulation (Thomas Rice).

Section II: Regulatory Issues.

5. Consumer Choice Under "Private Health Care Regulation" (Uwe E. Reinhardt).

6. The Long-Term Care Ombudsman Program: A Model for Health Care Consumers (William F. Benson).

7. Ensuring Equal Access to Care (Brian Biles and David Sandman).

8. Regulating Quality and Clinical Practice (William L. Roper).

9. The Scope of Managed Care Liability (David M. Keepnews).

10. ERISA and the Regulation of Group Health Plans (Craig Copeland and William L. Pierron).

Section III: Perspectives on Regulation.

11. The Public: Understanding the Managed Care Backlash (Robert J. Blendon, Mollyann Brodie, John M. Benson, Drew E. Altman, Larry Levitt, Tina Hoff, and Larry Hugick).

12. A Foundation Perspective: Core Principles for Regulating Health Care Quality (Karen Davis and David Sandman).

13. The Managed Care Industry: Balancing Market Forces and Regulation (Karen Ignagni).

14. Regulation from a Consumer's Perspective (Ronald F. Pollack).

15. Regulation from an Insurance Industry Perspective (Bill Gradison).

16. Regulation Misses the Big Issue--The Uninsured (Larry S. Gage).

Section IV: Managed Care Regulation in Practice.

17. Creating Standards: A Practical Approach (Phil Nudelman).

18. California's Struggle with Regulation (Sara J. Singer and Alain C. Enthoven).

9. The Cost of Regulation: How the Estimates Vary (Allen Dobson and Caroline Steinberg).
"This is a very useful collection of essays by some of the nation's most influential health policy experts. Topics covered: the theory of regulation, the ways in which the HMO industry does and does not fit the standard model, and consumer and insurance industry perspectives on regulation and practical implementation issues." (Bryan E. Dowd, University of Minnesota School of Public Health, Hospital & Health Networks, March 2000)

"This collection of papers, from an extraordinary group of authors, makes a valuable contribution to the ongoing policy debate and will be of interest to anyone concerned with the future of our health care system." (Charles A. Sanders, retired chairman and CEO, Glaxo Inc., and former general director, Massachusetts General Hospital)

"This balanced collection of cutting-edge papers reviewing the theory and practice of health regulation is a must-read for those who regulate and for those regulated by this market-moving the debate from whether to regulate to how to do this most difficult task more effectively." (W. David Helms, CEO, Association for Health Services Research and president, Alpha Center)