Reinforced Concrete Fundamentals, 5th Edition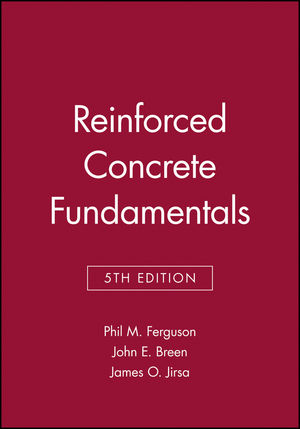 Reinforced Concrete Fundamentals, 5th Edition
ISBN: 978-0-471-80378-2
Jan 1988
768 pages
Description
This Fifth Edition maintains the basic Ferguson approach in which design procedures stem from and provide the basis for a clear understanding of the behavior of reinforced concrete. Behavior of reinforced concrete members and assemblages at every load stage is illustrated with illustrations and photos, and calculation models that relate to the physical behaviors are provided to help students and practitioners recognize and assess various design situations. To avoid confusion, many of the examples now use customary or English units, rather than SI units as in the Fourth Edition. This edition conforms to the technical changes in the '83 and '86 revisions to the ACI Building Code. In this edition, service load analysis of stresses, computuations of deflection and distribution of reinforcement to control crack widths have been incorporated with the sections that treat analysis and design of flexural members. Material relating to seismic design has been revised and expanded, and more emphasis has been placed on developing conceptual models for design.
Introduction.

Materials.

Flexural Analysis and Serviceability of Beams.

Design for Flexure.

Shear and Torsion.

Axial Load Plus Bending--Short Columns.

Slender Columns.

Development and Slicing of Reinforcement.

Continuous Beams and One-Way Slabs.

Detailing of Joints.

Limit Design.

Two-Way Slabs on Stiff Beams.

Yield Line Theory for Slabs.

Strip Method for Slab Design.

Flat Plates and Flat Slabs.

Interaction of Two-Way Slab Systems with Beams and Columns.

Distribution of Concentrated Loads and Other Special Problems.

Cantilever Retaining Wall Design.

Footings.

Prestressed Concrete Analysis.

Composite Beams.

Shear Walls.

Detailing for Seismic Resistance.

Appendices.

Index.