Reinventing Political Culture: The Power of Culture versus the Culture of Power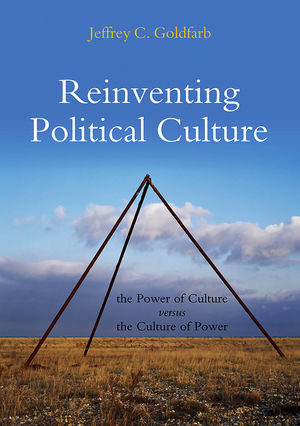 Reinventing Political Culture: The Power of Culture versus the Culture of Power
ISBN: 978-0-745-64637-4 December 2011 Polity 200 Pages
Description
The way people think and act politically is not set in stone. People can and do change the fundamental cultural contours of their political situation. Their political culture does not only restrict imagination and action - it is also a resource for political creativity and invention. In Reinventing Political Culture, this resource is uncovered and explored.
Analyzed as a tension between the power of culture and the culture of power, the concept of political culture is reinvented and applied to understanding the practice of people transforming their own political culture in very different circumstances. Three instances of such reinvention are closely examined: one historic, during the twilight of the Soviet empire; one actively in process and actively opposed, 'the Obama revolution'; and one an apparent distant dream, the power of culture and the culture of power that would avoid 'the clash of civilizations' in the Middle East.
In accessible and engaging prose, Goldfarb clearly and forcefully presents students and scholars of sociology, comparative politics, and cultural studies with an original position on political culture, showing how the political cultures of our times pose not only grave dangers, but also opportunities for creative alternatives.
Table of contents
Chapter 1 Introduction
Chapter 2 Reinventing the Concept
Chapter 3 Ideology Ends Again?
Chapter 4 Reinventing American Political Culture: The Obama "Revolution"
Chapter 5 Reinventing American Political Culture: The Counter-Revolution
Chapter 6 Spaces of Possibility in the Middle East: Seeking Reinvention in Everyday Practice
Chapter 7 The Power of Culture versus the Culture of Power
Chapter 8 From Monologue to Dialogue: Democratic Culture and the Intellectuals
Reviews
"An erudite yet lively and readable contribution to efforts to bring more creative ways of thinking about political culture to social science."
Times Higher Education
"Sometimes established political cultures entrap us; sometimes they threaten to destroy us unless we reinvent them and reinvent ourselves in the process. Jeffrey Goldfarb's book describes historical turning points that are often tragic, yet pregnant with new realities. With lucid, deliberate optimism, he looks at the early signs and first tremors that announce the birth of a better world - a world in
'
statu nascendi.'"

Daniel Dayan, Centre National de la Recherche Scientifique, and Ecole des Hautes Etudes en Sciences Sociales, Paris
"In Reinventing Political Culture, Jeffrey Goldfarb demonstrates that the division between the politics of small things and the structures of big institutions need not be a chasm, but rather that they are two intersecting domains. Through this personal, profound, and provocative work of social theory, Goldfarb underscores the possibility of a democratic reinvention of political culture. His ideas are vital for all those interested in the linkage between states and publics and the linkage between small groups and mass publics."
Gary Alan Fine, Northwestern University
"The author's personal engagement and experience in the examples he is discussing, and the exceptionally well-written and engaging detail of the analysis, help this book to revitalize the idea of the cultural arena as a critical venue for struggles over social change."
William A. Gamson, Boston College
What's New
An astute and concise book that re-thinks the concept of political culture for today's world, and explores shifts in political ideologies in action
Uses 3 examples of changing political cultures in order to explore the full potential of the concept: the collapse of the Soviet empire, the rise of Obama in the US, and the case of Israel/Palestine.
Written in a very readable and engaging prose that will make it accessible to students at all levels, whilst making a powerful statement that scholars will want to engage with, too
Written by a respected figure in the field, drawing on his own scholarly as well as personal engagements with shifts in political culture.