Rekindling Romance For Dummies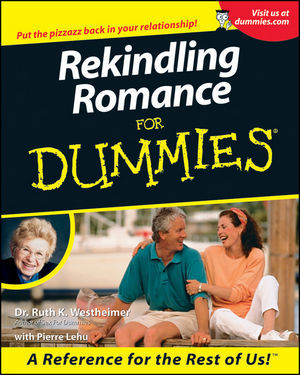 Rekindling Romance For Dummies
ISBN: 978-0-764-55303-5 December 2000 335 Pages
Description
"Her energy level is higher than a charged particle."
—People

"Her manner is down-to-earth and reassuring.... She tries to make people feel better, value themselves, trust their instincts."
—Ladies' Home Journal

In today's world of instant gratification people have lost the knack for keeping romance alive. Rather than take the time to rekindle the flame that once burned so brightly, we let the fire die out, thinking we'll find something more lasting with someone else. Often, the result is that we find ourselves repeating the same pattern over and over again or giving up on romance altogether. But true romance never really dies it only goes into hibernation, waiting for somebody to wake it up.

Are you bored with your relationship? Does your love life seem routine? Don't throw in the towel! Let "Americas star sexologist" (TV Guide), Dr. Ruth Westheimer shows you how to inspire a romantic Renaissance in your relationship. With the help of self-exams and easy exercises, she shows you how to:
Rate the romance in your relationship
Renew respect and commitment
Spice up your sex life
Find time for Romance in everyday situations
Plan a romantic getaway
Full of straight-talk about real-life relationship issues and peppered with helpful and inspiring anecdotes from her years couples counseling, Rekindling Romance For Dummies helps you:
Find the sources of stress in your relationship and address them constructively
Discover the importance of communication in overcoming potential sore spots
Understand the roles that conflict and mutual respect play in a successful relationship
Use proven techniques for strengthening your relationship, including renewal ceremonies, romantic escapes, and more
Overcome boredom and insecurity in the bedroom and supercharge your sex-life together, well into your golden years
Work through common stresses that can afflict romance, including financial conflict, pregnancy, and childrearing
Recognize how common medical problems can impact the state of your relationship and know when to seek professional help
Don't let a good thing fade away. Let Dr. Ruth show you how to "embrace the art of romance" and keep the fire burning in your relationship.
Buy Both and Save 25%!
Original Price:$44.98
Purchased together:$33.74
save $11.24
Cannot be combined with any other offers.
Introduction.

PART I: HOW TO WIN YOUR MATE ALL OVER AGAIN.

Chapter 1: How Does Your Relationship Rate? A Self-Assessment.

Chapter 2: Say It and Show It: Improving Communications.

Chapter 3: Conquering Conflict.

Chapter 4: Renewing Respect.

PART II: INSPIRING A ROMANTIC REVIVAL.

Chapter 5: The Art of Romance: Keeping Love Fresh.

Chapter 6: Taking Commitment to a Higher Level.

Chapter 7: Renewing Your Marriage Vows.

Chapter 8: Getting Away from It All: Romantic Getaways.

PART III: HEATING UP YOUR SEX LIFE.

Chapter 9: Rethinking Your Approach to Sex.

Chapter 10: Feeling Attractive: Be Sexy, You're Worth It.

Chapter 11: Let's Get Physical: Excercises to Improve Your Sex Life.

Chapter 12: Great Sex in Your Senior Years.

PART IV: ROMANCING REAL LIFE.

Chapter 13: Finding the Romance in Pregnancy.

Chapter 14: Managing Romance with Parenthood: From Infants to Teens.

Chapter 15: Heating Up the Empty Nest.

Chapter 16: Working Too Hard for Romance?

Chapter 17: Romancing Financial Difficulties.

Chapter 18: Rescuing Romance from Life's Hardships.

PART V: TROUBLESHOOTING YOUR LOVE LIFE.

Chapter 19: Navigating Common Traps and Pitfalls: TV to the Internet.

Chapter 20: When the Two of You Can't Make It Alone: Going for Therapy.

Chapter 21: Medical Matters: When You May Need to See a Doctor.

PART IV: THE PARTS OF TENS.

Chapter 22: Ten Romantic Getaways Sure to Create a Spark.

Chapter 23: Ten Great Ways to Date Your Mate.

Chapter 24: Ten New Twists on Your Everyday Sex Life.

Chapter 25: Ten Romantic Web Sites.

Index.

Book Registration Information.