Relationship Fundraising: A Donor-Based Approach to the Business of Raising Money, 2nd Edition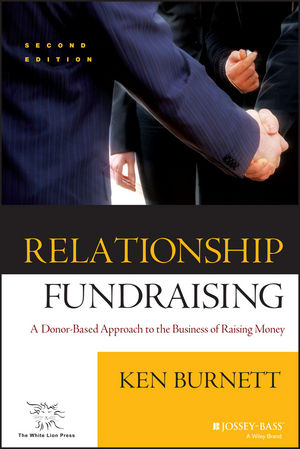 Relationship Fundraising: A Donor-Based Approach to the Business of Raising Money, 2nd Edition
ISBN: 978-0-787-96681-2
Oct 2002, Jossey-Bass
384 pages
Description
Internationally acclaimed fundraising consultant Ken Burnett has completely revised and updated his classic book Relationship Fundraising to offer fundraising professionals an invaluable resource for learning the techniques of effective communication with donors in the twenty-first century. Filled with illustrative case histories, donor profiles, and more than two hundred action points, this groundbreaking book shows fundraisers how to
Implement creative approaches to relationship-building fundraising
Avoid common fundraising errors and pitfalls
Apply the vital ingredients for fundraising success
Build good relationships through marketing
Achieve a greater understanding of their donors
Communicate effectively with donors--using direct mail, the press, television, the telephone, face-to-face contact, and more.
Prepare for the challenges of twenty-first century fundraising
Foreword (Jennie Thompson).

Preface to the Second Edition.

Acknowledgments.

The Author.

1. Much More Than Raising Money.

2. Proud to Be a Fundraiser.

3. The Essence of Good Fundraising.

4. The Vital Ingredients for Success.

5. Understanding Your Donors.

6. Learning from Recent Research.

7. Avoiding Common Errors and Pitfalls.

8. Building Better Friendships Through Marketing.

9. Making and Keeping Friends.

10. Keeping in Touch with Your Donors.

11. Creative Approaches to Relationship Building.

12. Bequest Marketing: The Last Great Fundraising Opportunity.

13. Keeping Up with Change.

14. Fundraising for the Twenty-First Century.

Glossary.

Bibliography.

Index.
"This is an excellent book for those of you new to the field of fundraising and the nonprofit world in general." (CharityChannel.com, December 20, 2002)