Releasing the Imagination: Essays on Education, the Arts, and Social Change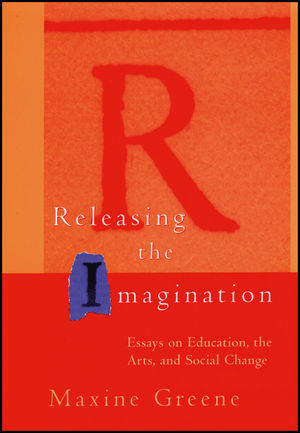 Releasing the Imagination: Essays on Education, the Arts, and Social Change
ISBN: 978-0-787-95291-4
Feb 2000, Jossey-Bass
236 pages
Description
"This remarkable set of essays defines the role of imagination in general education, arts education, aesthetics, literature, and the social and multicultural context.... The author argues for schools to be restructured as places where students reach out for meanings and where the previously silenced or unheard may have a voice. She invites readers to develop processes to enhance and cultivate their own visions through the application of imagination and the arts. Releasing the Imagination should be required reading for all educators, particularly those in teacher education, and for general and academic readers."
—Choice

"Maxine Greene, with her customary eloquence, makes an impassioned argument for using the arts as a tool for opening minds and for breaking down the barriers to imagining the realities of worlds other than our own familiar cultures.... There is a strong rhythm to the thoughts, the arguments, and the entire sequence of essays presented here."
—American Journal of Education

"Releasing the Imagination gives us a vivid portrait of the possibilities of human experience and education's role in its realization. It is a welcome corrective to current pressures for educational conformity."
—Elliot W. Eisner, professor of education and art, Stanford University

"Releasing the Imagination challenges all the cant and cliché littering the field of education today. It breaks through the routine, the frozen, the numbing, the unexamined; it shocks the reader into new awareness."
—William Ayers, associate professor, College of Education, University of Illinois, Chicago
Introduction: Narrative in the Making.

CREATING POSSIBILITIES.

1. Seeking Contexts.

2. Imagination, Breakthroughs, and the Unexpected.

3. Imagination, Community, and the School.

4. Discovering a Pedagogy.

5. Social Vision and the Dance of Life.

6. The Shapes of Childhood Recalled.

ILLUMINATIONS AND EPIPHANIES.

7. The Continuing Search for Curriculum.

8. Writing to Learn.

9. Teaching for Openings.

10. Art and Imagination.

11. Texts and Margins.

COMMUNITY IN THE MAKING.

12. The Passions of Pluralism.

13. Standards, Common Learnings, and Diversity.

14. Multiple Voices and Multiple Realities.
"This remarkable set of essays defines the role of imagination in general education, arts education, aesthetics, literature, and the social and multicultural context.... The author argues for schools to be restructured as places where students reach out for meanings and where the previously silenced or unheard may have a voice. She invites readers to develop processes to enhance and cultivate their own visions through the application of imagination and the arts. Releasing the Imagination should be required reading for all educators, particularly those in teacher education, and for general and academic readers." (Choice)

"Maxine Greene, with her customary eloquence, makes an impassioned argument for using the arts as a tool for opening minds and for breaking down the barriers to imagining the realities of worlds other than our own familiar cultures.... There is a strong rhythm to the thoughts, the arguments, and the entire sequence of essays presented here." (American Journal of Education)

"Maxine Greene, one of the greatest education philosophers of the last half century, constantly reminds teachers that the arts and the social imagination are central to humane and caring learning.... Her work is a constant reminder that teaching is a moral profession and that children's imaginations are a treasure we can neglect only at the peril of our future." (Review in Teacher by Herbert Kohl, senior fellow, Open Society Institute, New York City)

"Releasing the Imagination gives us a vivid portrait of the possibilities of human experience and education's role in its realization. It is a welcome corrective to current pressures for educational conformity." (Elliot W. Eisner, professor of education and art, Stanford University)

"Releasing the Imagination challenges all the cant and cliche littering the field of education today. It breaks through the routine, the frozen, the numbing, the unexamined; it shocks the reader into new awareness." (William Ayers, associate professor, College of Education, University of Illinois, Chicago)