Reliability in Procurement and Use: From Specification to Replacement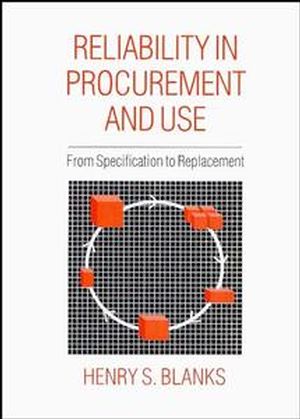 Reliability in Procurement and Use: From Specification to Replacement
ISBN: 978-0-471-93488-2 November 1992 368 Pages
Description
Details all the issues and applications of reliability engineering relevant to the use and purchase of equipment. Introduces reliability terminology for the non-specialist. Discusses product procurement based on life cycle cost, the total expenditure of ownership as opposed to merely acquisition, procurement dependability specifications, equipment inspection frequency, optimization of replacement, overhaul tactics and schedules. Explains how to collect, analyze and monitor field failure data in order to build up dependable reliability data banks for future use.
Table of contents
Partial table of contents:

Reliability Basics.

Probability Concepts and Applications.

Mean Time to Failure and Mean Time Between Failures.

LIFE CYCLE COST PROCUREMENT.

Life Cycle Cost: Concepts, Constituents and Models.

Dependability and Life Cycle Cost.

PROCUREMENT SPECIFICATIONS.

Allocation of Subsystem Dependability Needs.

COMPARATIVE PRODUCT EVALUATION.

Product Selection and Evaluation.

FAILURE REPORTING AND DATA ANALYSIS.

Failure Reporting and Analysis.

Aging Analysis of Repairable Equipment.

INSPECTION FREQUENCY OPTIMIZATION.

Inspection Frequency Optimization.

REPLACEMENT AND OVERHAUL POLICIES.

Replacement Policies: Concepts, Methods and Models.

Replacement with Ongoing Technological Change.

Appendices.

Selected Bibliography.

Index.