Religion and Rationality: Essays on Reason, God and Modernity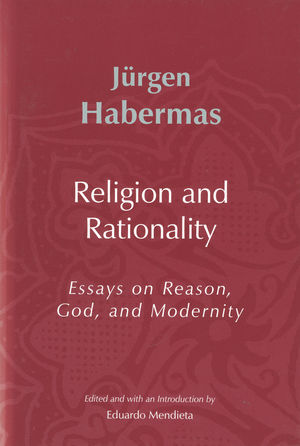 Religion and Rationality: Essays on Reason, God and Modernity
ISBN: 978-0-745-62487-7 July 2002 Polity 184 Pages
Description
This important new volume brings together Habermas' key writing on religion and religious belief. Habermas explores the relations between Christian and Jewish thought, on the one hand, and the Western philosophical tradition on the other. In so doing, he examines a range of important figures, including Benjamin, Heidegger, Johann Baptist Metz and Gershom Scholem.
In a new introduction written especially for this volume, Eduardo Mendieta places Habermas' engagement with religion in the context of his work as a whole. Mendieta also discusses Habermas' writings in relation to Jewish Messianism and the Frankfurt School, showing how the essays in Religion and Rationality, one of which is translated into English for the first time, foreground an important, yet often neglected, dimension of critical theory. The volume concludes with an original extended interview, also in English for the first time, in which Habermas develops his current views on religion in modern society.

This book will be of great interest to students and scholars in theology, religious studies and philosophy, as well as to all those already familiar with Habermas' work.
Table of contents
Acknowledgments.
Introduction.
Chapter 1: The German Idealism of the Jewish Philosophers.
Chapter 2: On the Difficulty of Saying No.
Chapter 3: Transcendence from Within, Transcendence in this World.
Chapter 4: To Seek to Salvage an Unconditional Meaning Without God is a Futile Undertaking: Reflections on a Remark of Max Horkheimer.
Chapter 5: Communicative Freedom and Negative Theology: Questions for Michael Theunissen.
Chapter 6 Israel or Athens: Where does Anamnestic Reason Belong? Johannes Baptist Metz on Unity amidst Multicultural Plurality.
Chapter 7: Tracing the Other of History in History: Gershom Scholem's Sabbati Sevi.
Chapter 8: A Conversation About God and the World: Interview with Eduardo Mendieta.
Index
Features
1. Habermas is one of the world's leading social and political thinkers.
2. The first book to bring together Habermas's key writings on religion.

3. Includes an original interview with Habermas, as well as an introduction written especially for the volume.