Religion in American History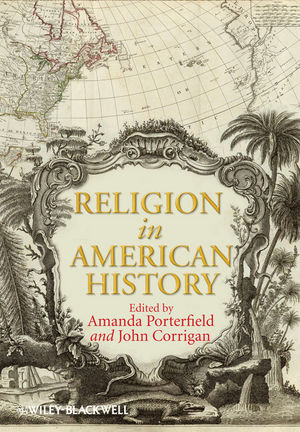 Religion in American History
ISBN: 978-1-444-32617-8
Mar 2015, Wiley-Blackwell
360 pages
Description
This student-friendly introduction combines both thematic and chronological approaches in exploring the pivotal role religion played in American history - and of its impact across a range of issues, from identity formation and politics, to race, gender, and class.

A comprehensive introduction to American religious history that successfully combines thematic and chronological approaches, aiding both teaching and learning

Brings together a stellar cast of experts to trace the development of theology, the political order, practice, and race, ethnicity, gender and class throughout America's history

Accessibly structured in to four key eras: Exploration and Encounter (1492-1676); The Atlantic World (1676-1802); American Empire (1803-1898); and Global Reach (1898-present).

Investigates the role of religion in forming people's identities, emotional experiences, social conflict, politics, and patriotism
How to use this book.
Notes on contributors. Introduction, John Corrigan and Amanda Porterfield.
PART I: Exploration and Encounter (1492-1676).
1. Politics, Amanda Porterfield.
2. Cosmology, John Corrigan.
3. Community, Sarah Rivett.
4. Practice, Tracy Neal Leavelle.
PART II: Atlantic World (1676-1802).
5. Politics, Jon Sensbach.
6. Cosmology, Stephen Marini.
7. Community, Kenneth P. Minkema.
8. Practice, Martha L. Finch.
PART III: American Empire (1803-1898).
9. Politics, Mark A. Noll.
10. Cosmology, Robert Fuller.
11. Community, Heather D. Curtis.
12. Practice, Christopher White.
PART IV: Global Reach (1898-Present).
13. Politics, Charles H. Lippy.
14. Cosmology, Kathryn Lofton.
15. Community, Peter W. Williams.
16. Practice, Candy Gunther Brown.
Index.
"At a time when the role of faith and belief in American life is receiving renewed attention, this is a valuable introduction to the nation's religious heritage."  (Journal of Ecclesiastical History, 1 July 2012)
A comprehensive introduction to American religious history that successfully combines thematic and chronological approaches, aiding both teaching and learning
Brings together a stellar cast of experts to trace the development of theology, the political order, practice, and race, ethnicity, gender and class throughout America's history
Accessibly structured in to four key eras: Exploration and Encounter (1492-1676); The Atlantic World (1676-1802); American Empire (1803-1898); and Global Reach (1898-present)
Investigates the role of religion in forming people's identities, emotional experiences, social conflict, politics, and patriotism