Relocating Postcolonialism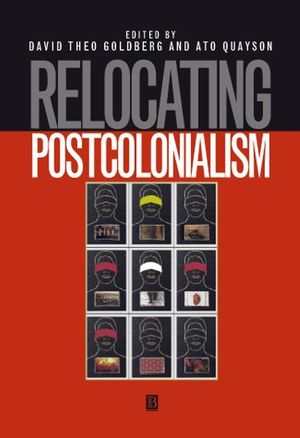 Relocating Postcolonialism
ISBN: 978-0-631-20805-1
Feb 2002, Wiley-Blackwell
396 pages
Description
Relocating Postcolonialism is a major new collection that challenges many of the assumptions and discursive maneuvers of postcolonialism and assesses its relationship to other academic disciplines and fields of inquiry.
Preface.
Introduction: Scale and Sensibility. (Ato Quayson and David Theo Goldberg).
1. In Conversation with Neeladri Bhattacharya, Suvir Kaul and Ania Loomba. (Edward Said).
2. Speaking of Postcoloniality, in the Continuous Present: A Conversation. (Homi Bhabha and John Comaroff).
3. Resident Alien? (Gayatri Chakravorty Spivak).
4. Directions and Dead-ends in Postcolonial Studies. (Benita Parry).
5. Racial Rule. (David Theo Goldberg).
6. Racist Visions for the Twenty-first Century: On the Cultural Politics of the French Radical Right. (Ann Stoler).
7. Breaking the Silence and a Break with the Past: African Oral Histories and the Transformations of the Atlantic Slave Trade in Southern Ghana. (Anne Bailey).
8. Forgotten Like a Bad Dream: Atlantic Slavery and the Ethics of Postcolonial Memory. (Barnor Hesse).
9. Connectivity, and the Fate of the Unconnected. (Olu Oguibe).
10. Towards (Re)Conciliation: The Post-Colonial Economy of Giving. (Pal Ahluwalia).
11. The Economy of Ideas: Colonial Gift and Postcolonial Product. (Zane Ma-Rhea).
12. Looking Awry: Tropes of Disability in Postcolonial Writing. (Ato Quayson).
13. Theorizing Disability. (Rosemarie Garland Thomson).
14. Nature, History and the Failure of Language: The Problem of the Human in Postapartheid South Africa. (John Noyes).
15. Passing as Korean-American. (Wendy Ann Lee).
16. Myths of East and West: Intellectual Property Law in Postcolonial Hong Kong. (Eve Darian-Smith).
17. A Flexible Foundation: Constructing A Postcolonial Dialogue. (Dawn Duncan).
18. Linguists and Postcolonial Literature: Englishes in the Classroom. (Laura Wright and Jonathan Hope).
19. Post-Scriptum (Francois Verges).
Index.
"Taken together, the diverse contributions to this book represent a sustained attempt to bring postcolonial criticism into a dialogue with some of the most pressing and enduring issues of our times. I cannot think of any other book that helps us to see so clearly where postcolonial criticism is headed."
Dipesh Chakrabarty, University of Chicago
"This volume is a fine demonstration of the inexhaustible connectivity of postcolonialism-as-critical-thinking – not only across academic disciplines and sociopolitical formations but also across generations of scholars with divergent intellectual practices. For anyone concerned with this major field of knowledge, it will prove a stimulating and rewarding read." Rey Chow, Brown University

"This much needed collection indicates the continuing significance of postcolonial discourse today and its complex relationship to fields such as critical race theory, ethnic studies, and disability studies. The wide-ranging discussions will make this volume particularly useful to scholars committed to cross-cultural exchanges." Sangeeta Ray, University of Maryland


Brings together well-established contributors and emergent scholars in postcolonialism.


Presents essays in dialogue with each other to create a controversial collection that examines the current state of postcolonial studies.


Features a conversation between John Comaroff and Homi Bhabha, an interview with Edward Said, and a new essay by Gayatri Chakravorty Spivak.