Remarkable Service, 3rd Edition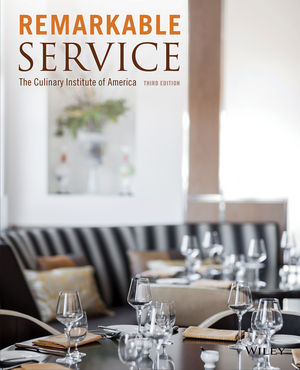 Remarkable Service, 3rd Edition
ISBN: 978-1-118-11687-6 February 2014 304 Pages
Description
A professional, highly trained staff offers a competitive advantage for all foodservice operations, from practical service skills (i.e., setting the table, serving the food, and presenting the check) to less tangible service skills (i.e., creating a welcoming space, exhibiting a helpful attitude, and anticipating customer needs). This revised edition has been thoroughly re-organized and updated with all-new photographs and includes new "Scripts for Service Scenarios" throughout to help servers practice real-world scenarios. 
Preface viii
Acknowledgments xiv
Chapter 1 The Principles of Remarkable Service 2
Chapter 2 Styles of Service 20
Chapter 3 A Clean and Safe Dining Room 48
Chapter 4 Preparing and Maintaining the Dining Room For Remarkable Service 72
Chapter 5 Reservations and Waiting Lists 110
Chapter 6 Serving Guests 136
Chapter 7 Beverage Service 176
Chapter 8 Wine Service 208
Chapter 9 Banquet Service in the Restaurant 230
Chapter 10 Remarkable Service Interactions 254
Appendix 268
Bibliography 277
Trade and Professional Groups 279
Index 281
Added a new chapter, Chapter 3, A Clean and Safe Dining Room, in order to address issues of cleanliness and hygiene for workers, sanitary procedures for handling tabletop items, and safety concerns in the event of accidents or injury in the dining room.
Added a new chapter, Chapter 5, Reservations and Waiting Lists, to better coordinate information and procedures to provide the best possible service whether you are taking reservations, timing, seating, using waiting lists, managing special requests, or taking group reservations.
All new photographs provide clear details and instruction.
Clear chapter objectives enable student progress to be observed and evaluated.
Combined the history and traditions of professional table service and styles of table service into a single chapter, Chapter 2, Styles of Service, to give these service styles context for today's restaurant.
Most comprehensive, contemporary approach to the front of the house operation on the market, from one of the leading culinary institutions in the world. It ranges from formal French tableside service to casual American family and buffet style service.
Includes a history of table service; styles of food service; dining room organization and personnel; reservations; service "mise en place;" food service; beverage service; wine service; special service challenges; handling money; controls and systems; banquets; safety and sanitation.
Includes expert advice on everything from styles of table service to wine service to coffee service to money handling, all accompanied by useful sidebars and detailed photography.