Reminiscences of a Stock Operator: With New Commentary and Insights on the Life and Times of Jesse Livermore, Annotated Edition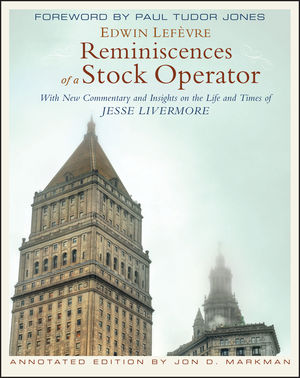 Reminiscences of a Stock Operator: With New Commentary and Insights on the Life and Times of Jesse Livermore, Annotated Edition
ISBN: 978-0-470-59322-6 June 2010 448 Pages
Description
With new commentary and Insights on the life and times of Jesse Livermore
Reminiscences of a Stock Operator is the fictionalized biography of perhaps the most famous financial speculator of all time-Jesse Livermore. This annotated edition bridges the gap between Edwin Lefevre's fictionalized account of Livermore's life and the actual, historical events, places, and people that populate the book. It also describes the variety of trading approaches Livermore used throughout his life and analyzes his psychological development as a trader and the lessons gained through hard experiences.
Analyzes legendary trader Jesse Livermore's strategies and explains how they can be used in today's markets
Provides factual details regarding the actual companies Livermore traded in and the people who helped/hindered him along the way
Explains the structure and mechanics of the Livermore-era markets, including the bucket shops and the commodity exchanges
Includes more than 100 pages of new material
Reminiscences of a Stock Operator has endured over 70 years because traders and investors continue to find lessons from Livermore's experiences that they can apply to their own trading. This annotated edition will continue the trend.
Foreword by Paul Tudor Jones.
Preface.
Chapter I.
Chapter II.
Chapter III.
Chapter IV.
Chapter V.
Chapter VI.
Chapter VII.
Chapter VIII.
Chapter IX.
Chapter X.
Chapter XI.
Chapter XII.
Chapter XIII.
Chapter XIV.
Chapter XV.
Chapter XVI.
Chapter XVII.
Chapter XVIII.
Chapter XIX.
Chapter XX.
Chapter XXI.
Chapter XXII.
Chapter XXIII.
Chapter XXIV.
Appendix: Dow Jones Industrial Average (1985-1929).
Paul Tudor Jones on Reminiscenses.
Selected Quotes.
Credits.
About the Author.
"...is big and beautiful, cutting across two centuries of booms and busts and market and economic history, with a myriad of vintage historical photos and instructive historical charts throughout."
(Barron's, November 1, 2010)

"This is a wonderful classic for any investor or economic historian...the style is pacey, robust and humorous."
(Professional Investor, October, 2010)
"A 10 best finance book.
Does the ongoing financial turmoil leave you scratching your head? Worry not, here's our pick of the finest - and most readable - books about Big Money..."
(The Independent)