Reminiscences of a Stock Operator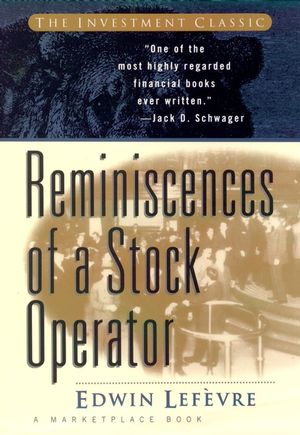 Reminiscences of a Stock Operator
ISBN: 978-0-471-05968-4 May 1994 304 Pages
Description
Critical Praise...

"In my interviews with over 30 of the best traders of our time,there were some questions that I raised in each conversation. Oneof these was: Are there any books that you found particularlyvaluable and would recommend to aspiring traders? By far, the mostfrequent response was Reminiscences of a Stock Operator-a book thatwas over 70 years old!"
--from the Foreword by Jack Schwager, author ofMarket Wizards and The New Market Wizards

"Although Reminiscences.was first published some 70 years ago,its take on crowd psychology and market timing is as timely as lastsummer's frenzy on the foreign exchange markets."
--Worth magazine

"The most entertaining book written on investing isReminiscences of a Stock Operator, by Edwin Lefevre, firstpublished in 1923."
--The Seattle Times

"The best book I've read is Reminiscences of a StockOperator. I keep a supply for people who come to work forme."
--Martin Zweig

"After 20 years and many re-reads, Reminiscences is still one ofmy all-time favorites."
--Kenneth L. Fisher

Forbes First published in 1923, Reminiscences of a StockOperator is the fictionalized biography of Jesse Livermore, oneof the greatest speculators ever. Reminiscences remains the mostwidely read, highly recommended investment book ever written.Generations of investors have found that it has more to teach themabout themselves and other investors than years of experience inthe market. This is a timeless tale that will enrich the lives-andportfolios-of today's investors as it has those of generationspast.
Table of contents
Chapter I - 3
Chapter II – 14
Chapter III – 27
Chapter IV – 35
Chapter V – 49
Chapter VI – 60
Chapter VII – 71
Chapter VIII – 77
Chapter IX – 89
Chapter X – 104
Chapter XI – 116
Chapter XII – 127
Chapter XIII – 141
Chapter XIV – 153
Chapter XV – 168
Chapter XVI – 176
Chapter XVII – 190
Chapter XVIII – 203
Chapter XIX – 210
Chapter XX – 216
Chapter XXI – 227
Chapter XXII – 241
Chapter XXIII – 259
Chapter XXIV – 269