Remoting with C# and .NET: Remote Objects for Distributed Applications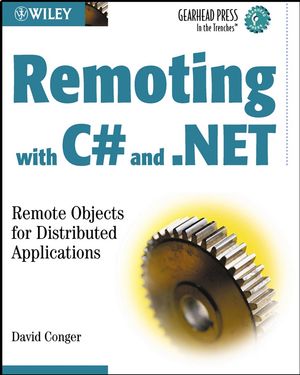 Remoting with C# and .NET: Remote Objects for Distributed Applications
ISBN: 978-0-471-27352-3
Jan 2003
432 pages
Product not available for purchase
Description
Harness the power of .NET Remoting to build complex and secure distributed applications

Microsoft's .NET Remoting takes building distributed applications to the next level. This innovative book, written by Microsoft insider David Conger, gets you up and running with .NET Remoting – fast. Starting with the basics of .NET technologies and tools as well as a simple client/server program, you'll learn how to exchange data across networks and communicate with remote objects and other distributed systems. You'll also learn how to securely deploy remote objects and client programs on networks, and then across the Internet as Web services. Finally, Conger demonstrates how you can extend and enhance the capabilities of the .NET Remoting system in order to use it to its full potential.

Using a comprehensible step-by-step approach and numerous C# code examples, this book will show you how to use .NET Remoting to:
Build multi-tiered applications that can interoperate with components written in different languages
Use remote objects as Web services to provide secure access to corporate applications
Manage the "lifetime" of remote objects by controlling and maintaining their state
Add custom security measures to distributed applications
Execute asynchronous calls across networks
The companion Web site contains all the source code and executables from the book.
About Gearhead Press
Responding to the ongoing needs of IT professionals for current and reliable information on the latest technologies, Wiley Technology Publishing introduces the Gearhead Press titles. These books, written by accomplished trainers in their respective fields, focus on real-world examples and case studies to give readers the best information on leading topics.
The In the Trenches imprint of Gearhead Press includes fast-paced books written by fellow IT professionals who have been there and done that. In the Trenches books guide readers to proficiency, and serve as practical, hands-on references after the initial tasks are accomplished.
Introduction.
PART ONE. AN OVERVIEW OF .NET REMOTING.
Chapter 1. Remoting, C#, and the .NET Framework.
Chapter 2. Remote Objects and Remoting.
PART TWO. .NET REMOTING IN ACTION.
Chapter 3. Building Applications that Use Remote Objects.
Chapter 4. Using Remote Objects.
Chapter 5. Remoting, XML, and SOAP.
Chapter 6. Providing Remote Objects for Clients.
Chapter 7. Remote Object Lifetimes and Leases.
Chapter 8. Configuring Distributed Applications.
Chapter 9. Deploying Distributed Applications.
Chapter 10. Remoting and Web Services.
PART THREE. ADVANCED TOPICS IN REMOTING.
Chapter 11. Asynchronous Remoting.
Chapter 12. Security.
Chapter 13. Message Sinks and Message Chains. 
 Appendix.
Glossary.
Index.