Renaissance Drama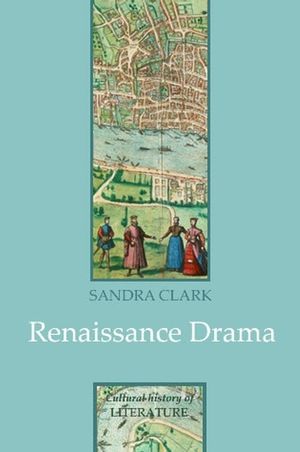 Renaissance Drama
ISBN: 978-0-745-63311-4 November 2007 Polity 232 Pages
Description
Renaissance Drama provides a comprehensive and engaging new account of one of the richest periods of theatre history: the drama of early modern England produced for the professional theatre. It brings new insights to bear by exploring the plays in their relation to the culture and society of the period.
Sandra Clark takes the reader through a compelling examination of how plays participate in and respond to changing anxieties, for instance about English nationhood, the monarchy, or the role of the family, sometimes raising difficult questions or offering challenges to accepted views. Unlike many books on Elizabethan drama, the book is organized so as to cover a wide range of plays, some familiar, many less so, by many playwrights, from Lyly in the 1580s to Shirley in the 1640s. Shakespeare is not foregrounded, but neither is he excluded; a chapter considers his dialogue with contemporaries and also the ways in which later playwrights wrote back to his work.
Renaissance Drama will become standard reading for all students and scholars of English literature or the early modern period.
Table of contents
Preface.
Introduction.
1 Monarchy and the Stage.
2 Sex, Marriage and the Family.
3 Journalistic Plays.
4 History Plays.
5 Tragedies of Tyrants.
6 Reading Revenge.
7 Comedy and the City.
8 The Place of Shakespeare.
Epilogue.
Further Reading.
Editions and Primary Texts
Reviews
"An engaging, thoughtful book that ranges across and sometimes beyond the canon (and also) though Clark's frequent short analyses of particular texts, presents student readers with a series of useful models for their own research, analysis and academic writing."
Times Higher Education
"Realistically comprehensive, distinctive and engaging ... As an overview of what was and could be acted in the first hundred years of the commercial stage in London, it is invaluable."
Times Literary Supplement
"Renaissance Drama employs a thematic and chronological approach to the drama of the period by surveying most of the key dramatists and applying to their works a strong sense of cultural contexts and the theorized approaches of modern criticism. Owing to this structure, Clark's study, like that of Womack, should be of immense usefulness to scholars and students alike."
The Year's Work in English Studies
"This is a really thorough, extraordinarily wide-ranging, student-friendly study which places the plays of Shakespeare and his many contemporaries firmly within their social and cultural contexts. With impressive economy, Sandra Clark offers a seamlessly woven account of the crucial forces shaping how theatre worked in this period."
Lisa Hopkins, SheffieldHallam University
"Sandra Clark's long and distinguished career as a Shakespeare scholar illuminates every page of this magisterial study. Familiar with so many works of Renaissance drama, she draws on her extensive knowledge of early modern culture to demonstrate just how the theatre reflects the society. Clark's study will be widely adopted for use in sixth-form and university classrooms."
John W. Mahon, co-editor, Shakespeare Newsletter
"As always, Sandra Clark's remarkable knowledge captures the vibrancy of Renaissance London. Informative for students and experts, Renaissance Drama replaces bardolatry with details from plays and social documents which bring to life Shakespeare's profession, city, and contemporaries."
Cristina Malcolmson, Bates College
Features


A comprehensive overview of one of the richest periods of theatre history – the drama of early modern England

Brings new insights by exploring the plays in their relation to the culture and society of the period

Organized to cover a wide range of plays and playwrights, ranging from the well known, such as Shakespeare and Marlowe, through to more original comparisons

Chronological range and coverage have been designed specifically to cater for the large number of undergraduate courses in this area

Accessibly written and concise, covering impressive amounts of material in a short space, in clear language