Renegotiating Health Care: Resolving Conflict to Build Collaboration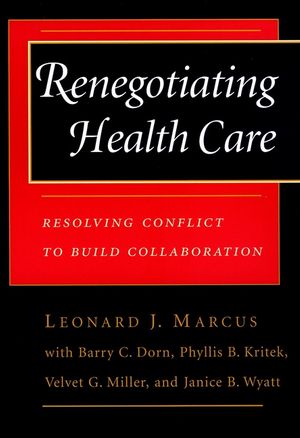 Renegotiating Health Care: Resolving Conflict to Build Collaboration
ISBN: 978-0-787-97513-5 September 1999 Jossey-Bass 496 Pages
Description
Winner of the 1995 CPR Institute for Dispute Resolution Book Prize Award for Excellence in Alternative Dispute Resolution American Journal of Nursing 1996 Book of the Year Award

"The health care sphere we inhabit would unquestionably be more satisfying if everyone adopted the cooperative techniques taught in this book."
--New England Journal of Medicine

Renegotiating Health Care presents pragmatic and effective tools for understanding conflict, negotiating differences, and creating a workable balance among those who deliver, receive, administer, and oversee health care. The authors present practical methods and techniques giving all the players the knowledge and skills they need to put their work in perspective and create workable solutions.
1. Why Conflict?

2. Moving Beyond Conflict.

3. Setting the Stage for Negotiation.

4. Interest-Based Negotiation.

5. Framing to Generate Negotiation Options.

6. Reframing to Spur Momentum.

7. A Public Health and Health Policy Perspective (Velvet Miller).

8. Health Care Management: Balancing Clinical and Business Perspectives (Janice B. Wyatt).

9. Nursing at an Uneven Table (Phyllis Kritek).

10. The Evolving Doctor (Barry Dorn).

11. Positional Bargaining.

12. Mediation, Arbitration, and Dispute Resolution.

13. Crafting the Essentials.

14. Constructing a Resilient Balance.
"Renegotiating Health Care highlights key skills of public health practice. It is an excellent book for those who aspire to leadership." (Deborah Prothrow-Stith, M.D., associate dean, Harvard School of Public Health)

"This book is an outstanding source for understanding the forces acting on American health care, the conflicts they create, and the strategies for productively dealing with them." (Edward A. Dauer, president, National Center for Preventive Law; dean emeritus, University of Denver College of Law)

"I turn to Renegotiating Health Care as a regular reference and guide. The changes and challenges in health care today require a proficient understanding of the pragmatic and tactful methods taught in this book." (Karen Shoos Lipton, J.D., chief executive officer, American Association of Blood Banks)

"The ample use of clear and relevant examples to illustrate principles and techniques make this book a powerful learning tool. Professionals reading it will surely find many of their own life experiences reflected in the series of stories." (Journal of the American Nursing Association)

"Renegotiating Health Care offers a set of practical tools for navigating the turbulent waters of health care collaboration. Since change is as certain as conflict, skill at eliciting commitment to a shared purpose and orchestrating efforts to achieve it is an essential quality of leadership." (American Journal of Public Health)

"The health care sphere we inhabit would unquestionably be more satisfying if everyone adopted the cooperative techniques taught in this book." (New England Journal of Medicine)

"The best thing I can say about a book is that it is interesting, and this one qualifies. Yes, it has a lot of theory, but it is beautifully fleshed out with vivid real or hypothetical case studies. These make the book very practical in spite of its conceptual basis." (Barbara Barnum, RN, Ph.D., Editor, Nursing Leadership Forum)

"Altogether this is a fun book, which is also practical and has some new ideas. I think both new and old managers will get something from it." (Barbara Barnum, RN, Ph.D., Editor, Nursing Leadership Forum)