Renting Out Your Property For Dummies, 2nd UK Edition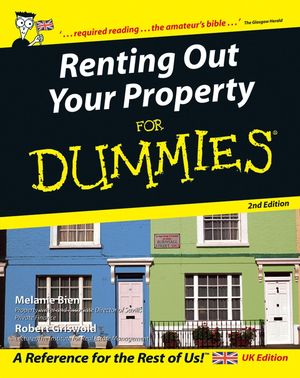 Renting Out Your Property For Dummies, 2nd UK Edition
ISBN: 978-1-119-99659-0
Feb 2011
392 pages
Description
Advice on profitable strategies, problem tenants, UK legal issues, and more!
Minimise rental headaches and maximise cash flow - without agent's fees
Whether you want to become a property tycoon or just rent out a second home, this guide to the UK rental market is your roadmap to success. Now fully updated with extra coverage on tax issues and company formation, let successful landlords Melanie Bien and Robert Griswold show you how to buy the right property, avoid legal problems, retain the best tenants, and maximise your rental income.
Praise for Renting Out Your Property For Dummies
"This book is a comprehensive guide to the process of renting out your property, brim full of sound practical advice based on years of experience. It's an absolute must for the bookshelf of any would-be landlord, novice and experienced alike."
—Tom Entwistle, Editor of the rental property Web site, www.LandlordZONE.co.uk
Discover how to
Market your property and screen tenants
Set the right rent and manage increases properly
Master maintenance issues, from DIY to 'contractor dream team'
Stay on top of your finances and record keeping
Introduction.
Part I: So You Want to Be a Landlord?
Chapter 1: Do You Have What It Takes to Manage a Buy-to-let Property?
Chapter 2: Deciding Whether to Manage Your Property Yourself or to Hire an Agent.
Chapter 3: Finding the Perfect Rental Property.
Part II: Renting Your Property.
Chapter 4: Preparing Your Rental Property for Prospective Tenants.
Chapter 5: Rent, Deposits, and Tenancy Agreements: The Big Three of Property Management.
Chapter 6: Generating Interest in Your Rental Property.
Chapter 7: Handling Prospective Tenants and Showing the Property.
Chapter 8: Eenie, Meenie, Miney, Mo: Selecting Your Tenants.
Part III: The Brass Tacks of Managing Rentals.
Chapter 9: Moving in the Tenant.
Chapter 10: Collecting and Increasing Rent.
Chapter 11: Keeping Good Tenants – and Your Sanity.
Chapter 12: Dealing with Problem Tenants.
Chapter 13: Moving Out Tenants.
Part IV: Techniques and Tools for Managing.
Chapter 14: Maintenance.
Chapter 15: Safety, Security, and Insurance.
Part V: Money, Money, Money!
Chapter 16: Raising the Cash to Buy Your Rental Property.
Chapter 17: Avoiding Property Taxes.
Chapter 18: Using a Company to Hold Your Property.
Chapter 19: Financial Management and Recordkeeping.
Part VI: Only for the Daring.
Chapter 20: Government Programmes.
Chapter 21: Working in Niche Markets: Students, Pets, and Smokers.
Part VII: The Part of Tens.
Chapter 22: Ten Reasons to Become a Rental Property Owner.
Chapter 23: Ten Ways to Get and Keep Full Occupancy in Your Property.
Chapter 24: Ten Ways to Increase Cash Flow.
Appendix: Resources.
Index.
"an invaluable guide to the industry" (GSPC Property Guide, Tue 19th June 2007)