Reproductive Biology of Invertebrates, Volume 9, Part A, Progress in Male Gamete Ultrastructure and Phylogeny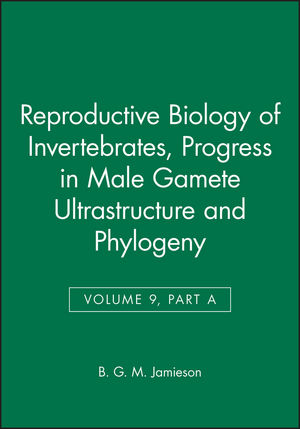 Reproductive Biology of Invertebrates, Volume 9, Part A, Progress in Male Gamete Ultrastructure and Phylogeny
ISBN: 978-0-471-97163-4 October 1999 286 Pages
Description
About 95 per cent of all known animal species are invertebrates. Aknowledge of their sexual, reproductive, and development biology isessential for the effective management of species that areeconomically useful to man or are harmful to him, his crops, andlivestock. This treatise is the first to cover all aspects ofreproduction and development of the entire spectrum ofinvertebrates -- terrestrial, marine, freshwater, brackish-water,free-living, and parasitic. The chapters, by leading world expertsin their fields, are up-to-date and informative, and suggest anumber of problems for future research. Progress in Male GameteUltrastructure and Phylogeny (issued in parts A--C) is the ninthvolume in the series.
Contents Preface to the Progress Series; Preface to Volume IX,Part A; Contributors; Porifera, N. Boury-Esnault and B.G.M.Jamieson; Cnidaria and Ctenophora, Peter L. Harrison and B.G.M.Jamieson; Platyhelminthes, Nikki A. Watson; Nemertea, ?ke Franzenand Bjorn A. Afzelius; Rotifera, Giulio Melone and Marco Ferraguti;Gastrotricha, Maria Balsamo, Elena Fregni and Marco Ferraguti,Kinorhyncha, Andrey V. Adrianov and Vladimir V. Malakhov;Nematomorpha, Roberto Valvassori, Magda de Eguileor, AnnalisaGrimaldi and Giulio Lanzavecchia; Acanthocephala, MarcellaCarcupino and Bahram S. Dezfuli; Subject Index; Species Index.
Porifera (N. Boury-Esnault & B. Jamieson).

Cnidaria and Ctenophora (P. Harrison & B. Jamieson).

Platyhelminthes (N. Watson).

Nemertea (?. Franzen & B. Afzelius).

Rotifera (G. Melone & M. Ferraguti).

Gastrotricha (M. Balsamo, et al.).

Kinorhyncha (A. Adrianov & V. Malakhov).

Nematomorpha (R. Valvassori, et al.).

Acanthocephala M. Carcupino & B. Dezfuli).

Indexes.