Research Methods For Business: A Skill Building Approach, 7th Edition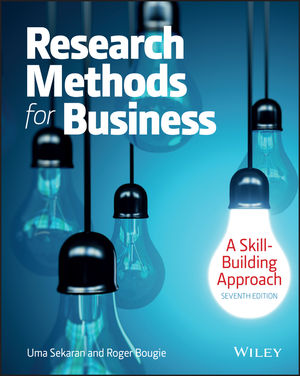 Research Methods For Business: A Skill Building Approach, 7th Edition
ISBN: 978-1-119-26684-6
Jun 2016
448 pages
Description
Common challenges faced by lecturers teaching this course include helping students learn to apply the theory to practice as they proceed with research; and student engagement in what can be a very dry course. Challenges faced by students include understanding research methodology, and quantitative research methods in particular.

The new 7th edition of this title considers these challenges and has evolved to offer a blended learning approach. The goal of this blended approach is to synthesize different teaching and learning approaches into an integrated mix that lecturers can tailor to their own specific needs. An innovative approach combines the face-to-face classroom methods of the instructor with computer-based activities, assignments, and assessments enable students to study what they want, when they want, at their own pace, anywhere they have access to the internet. Students will be led through the entire process of research and thus provide them with the knowledge and skills they need to successfully embark on a research project.

The seventh edition is organized into 5 main themes: Introduction, Defining and Refining the Problem, Theory, Information, and Writing and Presenting the Research Report.


Chapter 1 Introduction to Research
Chapter 2 The Scientific Approach and Alternative Approaches to Investigation
Chapter 3 Defining and refining the problem
Chapter 4 The Critical Literature Review
Chapter 5 Theoretical Framework & Hypothesis Development
Chapter 6 Elements of Research Design
Chapter 7 Interviews
Chapter 8 Data Collection Methods: Observation
Chapter 9 Administering Questionnaires
Chapter 10 Experimental Designs
Chapter 11 Measurement of Variables: Operational definition
Chapter 12 Measurement: Scaling, Reliability, and Validity
Chapter 13 Sampling
Chapter 14 Quantitative Data Analysis
Chapter 15 Quantitative Data Analysis: Hypothesis Testing
Chapter 16 Qualitative Data Analysis
Chapter 17 The Research Report
A Final Note to Students
Statistical Tables
Glossary
Bibliography
Index
All chapters are improved in the following way:


Examples, exercises, and other pedagogical features have been revised and updated in all the chapters.
The structure of the book has not changed, but the storyline has been greatly improved. As in previous editions, the accessible and informal style of presenting information has been maintained and the focus on practical skill building preserved.
Chapter 2 introduces and discusses alternative approaches to research. In the new edition, subsequent chapters follow up on this by reviewing a range of topics (such as research questions, research design, and measurement) from various perspectives.
Offers an expertly crafted overview of the research methodology process without oversimplifying it.
The skill building approach provides students with practical perspectives on how research can be applied to real business situations.
Aimed at undergraduate and postgraduate students taking an introductory course in business research methods this new edition continues to offer students a practical perspective to the subject.