Research Methods for Business: A Skill Building Approach, 5th Edition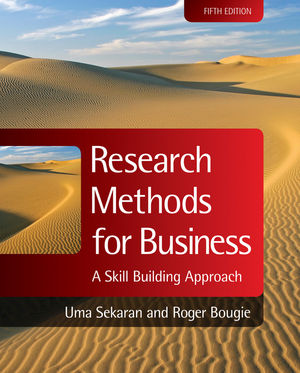 Research Methods for Business: A Skill Building Approach, 5th Edition
ISBN: 978-E-UDT-E0053-9
Sep 2010
488 pages
Description
Research Methods for Business: A Skill Building Approach,5th Edition is a concise and straightforward introduction for students to the world of business research. The skill building approach provides students with practical perspectives on how research can be applied in real business situations.

Maintaining Uma Sekaran's popular and accessible style of writing, Roger Bougie draws upon his extensive experience of the field to present an up-to-date guide on business research for the aspiring future manager.

The fifth edition has a new chapter on qualitative data analysis, featuring a case study of the research process. The chapters on scientific investigation, the broad problem area and defining the problem statement, measurement of variables, experimental designs, sampling, and quantitative data analysis have all been substantially revised. Additional real-life cases have been included and examples are taken from Europe, Asia and the US to give students a comprehensive view of modern business research methods.
About the authors xvii
Preface xix
Chapter 1 Introduction to research 1
Chapter 2 Scientific investigation 17
Chapter 3 The research process: the broad problem area and defining the problem statement 35
Chapter 4 The research process: theoretical framework and hypothesis development 67
Chapter 5 The research process: elements of research design 101
Chapter 6 Measurement of variables: operational definition 125
Chapter 7 Measurement: scaling, reliability, validity 139
Chapter 8 Data collection methods 179
Chapter 9 Experimental designs 225
Chapter 10 Sampling 261
Chapter 11 Quantitative data analysis 303
Chapter 12 Quantitative data analysis: hypothesis testing 335
Chapter 13 Qualitative data analysis 369
Chapter 14 The research report 389
A final note to students 423
Statistical tables 425
Glossary 435
Bibliography 449
Index 457
·         Updated coverage of the sections on measuring variables on tests and  relationship between properties of scales and conceptual models
·         Discussion on managerial and academic relevance of research projects in chapter 4
·         Extended section on causal research in Chapter 4
·         New chapter on exploratory research
·         Includes the addition of sampling frames in chapter 11
Skills building approach is the most effective way for students to learn about research and the most immediately relevant to them.
Cross-cultural research is discussed fully in the relevant chapters.
Clear, practical and concise style of writing allows students to focus on the theory presented and immediately apply it to research projects.
The integrated Examples and Projects provide students with the skills they need to carry out research projects. Abridged cases are used as Exercises at the end of the chapter. Answers are provided in the Instructor's Manual.