Research Methods for Social Psychology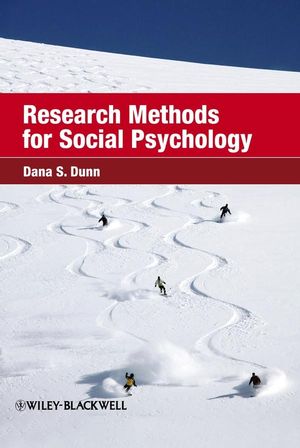 Research Methods for Social Psychology
ISBN: 978-1-405-14980-8
Aug 2008, Wiley-Blackwell
424 pages
Product not available for purchase
Description
Research Methods for Social Psychology teaches students to think like an experimental social psychologist. Striking a balance between theoretical sophistication and hands-on activities and exercises, this engaging text offers a friendly approach to methodology and a successful means of motivating students to design and execute their own social psychological research.
Active learning activities on social psychology in each chapter, as well as thought exercises at the end of each chapter
Guidance on developing social psychology research topics, advice on ethics reviews of research projects, instructions on how to design independent and dependent variables, and assistance with performing a post-experimental interviews with participants
A stand alone chapter on basic data analysis, in addition to directions for putting statistical results into words
Guidance on writing APA-style summaries of social psychology experiments, as well as giving oral and poster presentations; includes a sample annotated APA-style lab report
Instructor test bank with questions and answers for each chapter available at www.wiley.com/go/dunn
Detailed Table of Contents.
List of Active Learning Exercises.
Preface.
Acknowledgments.
1 Studying Social Psychology.
2 Developing Research Topics in Social Psychology.
3 Ethical Issues in Social Psychological Research.
4 Basic Experimental Design.
5 Alternatives to Experimental Research in Social Psychology.
6 Developing Questionnaires and Surveys.
7 Introducing a Difference: Independent Variables.
8 Measuring What Happens: Dependent Variables.
9 Validity and Realism in Research.
10 Conducting Social Psychology Experiments: Practical Matters.
11 Data Analysis.
12 Presenting Social Psychological Research.
Appendix A Major Journals in Social Psychology.
Appendix B Reading Journal Articles in Social Psychology.
Appendix C Annotated Student Research Paper.
References.
Author Index.
Subject Index
Though research methods courses for specific areas of psychology are becoming increasingly common at colleges and universities, most available books are general, applicable to any area of psychology. Dunn (Moravian College) provides an introduction to all of the usual research methods topics (e.g., choosing a research question, strategies of investigation, data analysis techniques) using examples from social psychology. Though the concepts Dunn covers are the same as those covered in most research-methods textbooks, the frequent mention of famous social psychology experiments and eminent social psychologists adds to the presentation and may motivate students engaged in the study of social psychology. In addition, Dunn's prose is clear and accessible, and the book's visual formatting is straightforward rather than flashy. Though intended primarily as a textbook, this volume would also be a welcome addition to a library's holdings. Summing Up: Recommended. Upper-division undergraduates and graduate students. -- B. J. Lovett, Elmira College (Choice, February 2009)


Active learning activities on social psychology in each chapter, as well as thought exercises at the end of each chapter


Guidance on developing social psychology research topics, advice on ethics reviews of research projects, instructions on how to design independent and dependent variables, and assistance with performing a post-experimental interviews with participants


A stand alone chapter on basic data analysis, in addition to directions for putting statistical results into words


Guidance on writing APA-style summaries of social psychology experiments, as well as giving oral and poster presentations; includes a sample annotated APA-style lab report