Researching Your Way to a Good Job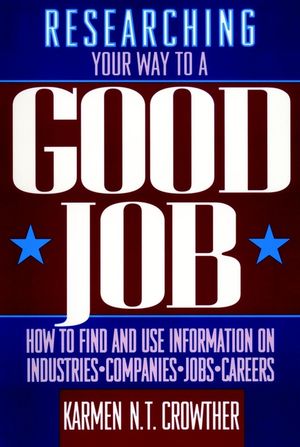 Researching Your Way to a Good Job
ISBN: 978-0-471-54827-0
Apr 1993
240 pages
Description
What can you do to influence your chance of success in finding a job? This manual provides all the techniques available to research and obtain a satisfactory position with the best possible employer. Offers invaluable suggestions on factors to investigate when evaluating a prospective employer; places to easily find information to aid in your evaluation; numerous ways to use that data to improve your chances of landing a job with the firm you want to work for. Details how to use company information in preparing the cover letter as well as for the interview and much more.
BEGINNING A JOB SEARCH.

Why Research an Employer?.

Selecting Company Factors to Investigate.

Identifying the Type of Company You Want to Research.

RESEARCHING A PROSPECTIVE EMPLOYER.

Researching Publicly Owned U.S.

Corporations.

Researching Subsidiaries and Divisions of Publicly Owned Companies.

Researching Foreign-Owned Corporations.

Researching Privately Held Corporations.

Researching Small Local or Regional Companies.

RESEARCHING SPECIAL TOPICS.

Finding Out About Salaries.

Finding the Best Place to Live and Work.

Choosing a Career.

Researching the ``Extra Mile''.

USING COMPANY INFORMATION IN A JOB SEARCH.

Identifying Prospective Employers.

Using Your Research in Resumes, Cover Letters, and Interviews.

Index.