Residential Design for Aging In Place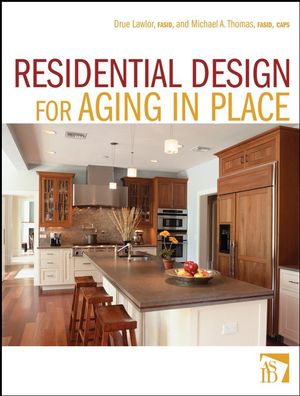 Residential Design for Aging In Place
ISBN: 978-0-470-05614-1
Aug 2008
272 pages
Description
Consult Residential Design for Aging In Place, the key reference for designing homes for aging people, if you seek to understand how to create effective spaces for the elderly. Interior designers, architects, and homebuilders are increasingly asked by clients to design homes to allow for adaptation over time, and this is the definitive guide, endorsed by the American Society of Interior Designers (ASID). Find case study examples of good design solutions for designing for aging in place from two authors who are highly respected fellows of the ASID.
Acknowledgments.
Introduction: GROWING UP AND GETTING WISER.
CHAPTER 1 Designs for Independence.
CHAPTER 2 The American Senior Tsunami.
CHAPTER 3 Laws, Codes, and Regulations.
CHAPTER 4 Assessing the Aging Process.
CHAPTER 5 Exterior Freedoms.
CHAPTER 6 Creating Living Spaces.
CHAPTER 7 Creating Private Places.
CHAPTER 8 Designing the Kitchen.
CHAPTER 9 Designing the Bathroom.
CHAPTER 10 The Rest of the House.
CHAPTER 11 Design Beyond Age.
APPENDIX A Building Professional Alliances.
APPENDIX B From Civil Rights to Universal Design and Beyond.
APPENDIX C Products and Vendors.
APPENDIX D Common Diseases and Disabilities.
Index.
""
Residential Design for Aging in Place
by Drue Lawlor and Michael Thomas is a comprehensive book written by two seasoned interior designers to show that universal design is good design. The book is well organized so readers can pinpoint a specific topic to learn about; however, I found myself so drawn into the information that I read the book cover to cover! The uniqueness of this book is the thorough research that Lawlor and Thomas conducted. They focus on designing homes that people can live in safely and independently throughout their lifetimes. With extensive footnotes throughout the book, readers will be guided to other documents on the subject."" (
marvingblog.com
, July 6, 2010)
""Michael Thomas is an expert when it comes to designing and remodeling homes suited to aging in place. The book, co-authored with California designer Drue Lawlor, has been well-received among builders, architects, and interior designers."" (Palm Beach Post, 7/27/09)
""...is a new, definitive guide to the design of residential interiors for clients that are aging in place. Interior designers, architects, and home builders will find this book a ""go-to"" reference guide."" (chicagoarchitecturetoday.com, January 2009)
""is a book for kitchen and bath professionals looking to better understand the design needs of an aging population. Incorporating design concepts and principles with discussion of design concepts and principles with discussion of design solutions and product options, this guide to designing homes explains how to meet the needs of clients who intend to age in place with style."" (Kitchen and Bath Design, November 2008)
""...is a textbook for interior designers detailing design concepts and principles that can help design/build professionals execute projects that will allow homeowners to live independently in their homes longer. Case Studies clearly translate the authors' key topics into effective design solutions and address exterior and interior room accessibility, working with aging specialists as well as laws, codes, and regulations."" (CustomHomeOnline.com, 10/16/08)