Residential and Light Commercial Construction Standards, 3rd Edition, Updated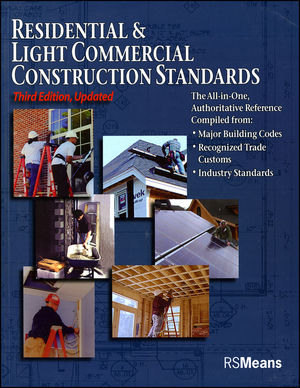 Residential and Light Commercial Construction Standards, 3rd Edition, Updated
ISBN: 978-0-876-29012-5 June 2008 576 Pages
Description
A popular reference used daily by builders, contractors, architects, and owners, this guide is a unique collection of industry standards that define quality in construction. For contractors, subcontractors, owners, developers, architects, engineers, attorneys, and insurance personnel, it provides authoritative requirements and recommendations compiled from the nation's leading professional associations, industry publications, and building code organizations.

New third edition is completely updated to the latest standards, codes, and trends. Coverage includes standards for concrete, masonry, framing, finish carpentry and cabinetry, insulation, roofing, windows and doors, drywall and ceramic tile, floor covering, plumbing, electrical, HVAC, and more. This one-stop reference is enhanced by helpful commentary from respected practitioners, including identification of items most frequently targeted for construction defect claims.

FEATURES:

This one-of-a-kind resource enables you to:
Establish an acceptable quality of workmanship
Resolve disputes and avoid litigation
Train personnel in correct installation procedures
Answer client questions and authority
Easily find applicable building code information
The nationwide team of editors includes leading contractors, engineers, architects and construction defect analysts. They provide practical installation tips, along with advice on how to avoid the most frequently cited defect claims.
Preface.
Disclaimer.
Acknowledgments.
About the Editors.
Introduction.
Purpose of the Book, How the Book is Organized, Applying the Information.
Understanding Building Codes & Other Standards.
See the beginning of each chapter for a detailed listing of contents. In addition to the topics listed below, every chapter includes Common Defect Allegations and a listing of professional associations.
Chapter 1 Asphalt Paving.
Subgrade Preparation, Placement, Design.
Chapter 2 Concrete.
Planning Concrete Construction, Freezing & Thawing Exposures, Deterioration, Water Penetration Prevention Methods, Waterproofing & Dampproofing Foundations, Testing Methods, Admixtures, Joints, Reinforcing Steel Placement, Anchor Bolts, Post-Tensioning, Shotcrete, Formwork, Piles & Caissons, Slabs, Surfaces, Pipes & Conduits, Tolerances.
Chapter 3 Masonry.
Installation, Masonry Walls, Fireplaces & Chimneys, Retaining Walls, Block Wall Tolerances, Paving with Masonry Units.
Chapter 4 Metal Framing.
Light-Gauge Steel Construction, Allowable Tolerances, Steel Framing Members, Construction Guidelines, Steel Siding Support, Pre-Engineered Steel Buildings.
Chapter 5 Wood Framing.
Lumber Grade Stamps, Engineered Wood Products, Nails & Fasteners, Wood Joists & Plywood Decks, Bored Holes & Notching, Walls, Columns, Roof Framing, Fire Blocks & Draft Stops, Structural Sheathing, Subfloor, Stair Framing, Egress, Access, Garages, Hurricane & Earthquake Resistance, Allowable Tolerances.