Resolving Conflicts at Work: Ten Strategies for Everyone on the Job, 3rd Edition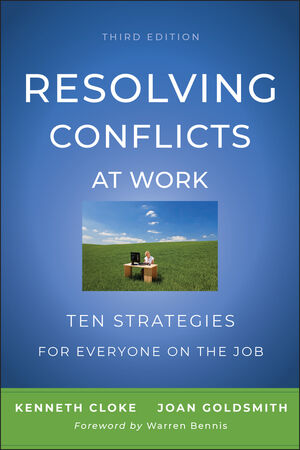 Resolving Conflicts at Work: Ten Strategies for Everyone on the Job, 3rd Edition
ISBN: 978-1-118-01082-2
Apr 2011, Jossey-Bass
400 pages
Description
The classic text on resolving workplace conflicts, fully revised and updated
Resolving Conflicts at Work is a guide for preventing and resolving conflicts, miscommunications, and misunderstandings at work, including dozens of techniques for revealing how the inevitable disputes and divisions in the workplace are actually opportunities for greater creativity, productivity, enhanced morale, and personal growth. In the third edition of this text, all chapters are completely infused with additional content, updated examples, and new case studies. Like its predecessors, it identifies core strategies for preventing and resolving both intermittent and chronic conflicts in the workplace. In addition, the book
Includes a new foreword by Warren Bennis, which represents his most recent thinking about judgment calls and candid communications in the workplace
Presents new chapters on leadership and transformational conflict coaching, and organizational systems design
This definitive and comprehensive work provides a handy guide for managers, employees, union representatives, human resource experts, and consultants seeking to maintain stable and productive workplaces.
Foreword: Conflict: An Opportunity for Leadership (Warren Bennis).
Acknowledgments.
Introduction. Ten Strategies for Everyone on the Job.
Strategy One. Understand the Culture and Dynamics of Conflict.
Strategy Two. Listen Empathetically and Responsively.
Strategy Three. Search Beneath the Surface for Hidden Meaning.
Strategy Four. Acknowledge and Reframe Emotions.
Strategy Five. Separate What Matters from What Gets in the Way.
Strategy Six. Solve Problems Paradoxically and Creatively.
Strategy Seven. Learn from Difficult Behaviors.
Strategy Eight. Lead and Coach for Transformation.
Strategy Nine. Explore Resistance and Negotiate Collaboratively.
Strategy Ten. Mediate and Design Systems for Prevention.
The Authors.
Index.