Respiratory Measurement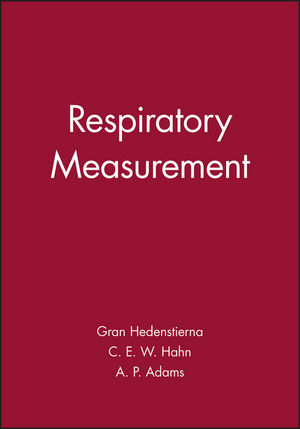 Respiratory Measurement
ISBN: 978-0-727-91207-7
Mar 1998, BMJ Books
175 pages
Description
This practical and didactic book is a comprehensive review of ventilation and gas exchange in normal circumstances, as well as in chronic and acute respiratory failure, and during anaesthesia. Horan Hedenstierna gives practical guidance on numerous respiratory function measurements, and their application in clinical practice.
Preface.
Part I Physiological Principles in Health and Chronic Disease.
1 Introduction.
2 Ventilation.
3. Lung Volumes.
4 Compliance, Resistance and Inductance.
5 Gas Distribution.
6 Diffusion of Gas.
7 Pulmonary Perfusion.
8 Causes of Hypoxaemia and Hypercapnia.
Part II Anesthesia and Acute Respiratory Failure.
9 Respiratory Mechanics During Anesthesia.
10 Ventilation, Blood Flow and Gas Exchange During Anesthesia.
11 Pulmonary Densities and Respiratory Mechanics in ARDS.
12 Ventilation, Circulation and Gas Exchange.
Part III Practice of Respiratory Measurement.
13 Measurement of Ventilation.
14 Lung Volume Measurement.
15 Gas Distribution.
16 Mechanics of the Respiratory System: Compliance.
17 Mechanics of Respiratory System: Resistance, Inertia, Power, Work.
18 Gas Exchange: Hypoventilation and Gas Diffusion.
19 Gas Exchange: Ventilation-perfusion Relationships and Shunt.
Reference Values.
Glossary.
Index.