Responding to the New Affirmative Action Climate: New Directions for Student Services, Number 83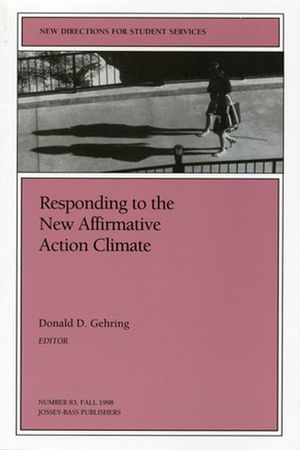 Responding to the New Affirmative Action Climate: New Directions for Student Services, Number 83
ISBN: 978-0-787-94215-1 October 1998 Jossey-Bass 110 Pages
Description
Although the term affirmative action stirs hot debate wherever it is mentioned, nearly everyone in higher education would agree that students learn a great deal from one another, and that an economically, ethnically, spiritually, and culturally diverse student body provides a positive educational experience. This issue explores how to achieve that educational goal while complying with confusing and sometimes conflicting laws and judicial pronouncements. The authors clarify the law as it relates to affirmative action in admissions and financial aid; discuss alternatives to race-based methods for achieving diversity; and report on a national study of student affairs programs that have successfully used affirmative action. This is the 83rd issue of the quarterly journal New Directions for Student Services.
Table of contents
1. A Brief History of the Commitment to Inclusion as a Facet of Equal Educational Opportunity (Robert D. Bickel).
2. Student Affirmative Action and the Courts (Alan T. Kolling).
3. What's Wrong with Race-Based Affirmative Action? (Gary Pavela).
4. Benefits of Affirmative Action in Student Affairs (Carol Logan Patitu, Melvin C. Terrell).
5. A Case Study: The Effects of the Hopwood Decision on Student Affairs (Felicia J. Scott, William L. Kibler).
6. Recommendations for the Future (Bettina C. Shuford).