Responding to the Realities of Race on Campus: New Directions for Student Services, Number 120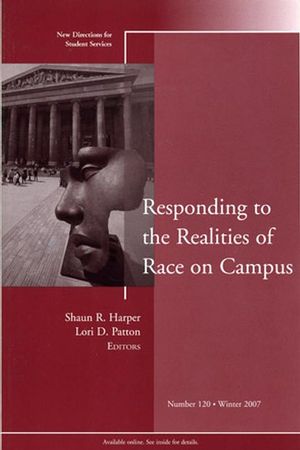 Responding to the Realities of Race on Campus: New Directions for Student Services, Number 120
ISBN: 978-0-470-26203-0
Jan 2008, Jossey-Bass
88 pages
Description
This volume of New Directions for Student Services illuminates several realities regarding racism, cross-racial interaction, race-based educational inequities, and campus racial climates in higher education. Authors describe how student learning and development are stifled by the mistreatment of race as a taboo topic on most college and university campuses. They also discuss the disconnection between espoused and enacted institutional values concerning inclusiveness and racial equity, as well as the need for increased accountability and intentionality.

In addition to igniting critical consciousness about one of the most vexing problems in American higher education, the chapters in this volume include several practical implications for reducing racial toxins in campus environments and engaging students in meaningful learning experiences about race inside and outside the classroom.

Chapters include
Nine Themes in Campus Racial Climates and Implications for Institutional Transformation
Beyond Artificial Integration: Reimaging Cross-Racial Interactions Among Undergraduates
Critical Race Perspectives on Theory in Student Affairs
Enhancing Racial Self-Understanding Through Structured Learning and Reflective Experiences
The Complicated Realities of Whiteness: From Color Blind to Racially Cognizant
The Equity Scorecard: A Collaborative Approach to Assess and Respond to Racial/Ethnic Disparities in Student Outcomes
Resituating Race into the Movement Toward Multiculturalism and Social Justice
This is the 120th volume of the Jossey-Bass quarterly report series New Directions for Student Services, offering guidelines and programs for aiding students in their total development: emotional, social, physical, and intellectual.
EDITORS'NOTES (
Shaun R. Harper, Lori D. Patton
).
1. Nine Themes in Campus Racial Climates and Implications for Institutional Transformation (Shaun R. Harper, Sylvia Hurtado)
This chapter provides a synthesis of published research on campus racial climates and presents themes from a qualitative study.
2. Beyond Artificial Integration: Reimagining Cross-Racial Interactions Among Undergraduates (Mitchell J. Chang)
Challenges associated with engaging race and encouraging cross-racial interactions among students are examined.
3. Critical Race Perspectives on Theory in Student Affairs (Lori D. Patton, Marylu McEwen, Laura Rendón, Mary F. Howard-Hamilton)
This chapter addresses understanding racial realities through the lens of critical race theory.
4. Enhancing Racial Self-Understanding Through Structured Learning and Reflective Experiences (Stephen John Quaye, Marcia B. Baxter Magolda)
Intercultural maturity and the learning partnerships model are offered as frameworks for understanding the intersection of students' developmental levels and readiness for cross-racial interactions.
5. The Complicated Realities of Whiteness: From Color Blind to Racially Cognizant (Robert D. Reason, Nancy J. Evans)
This chapter examines color-blind campuses that perpetuate White transparency and racially cognizant environments that reveal and challenge notions of color blindness.
6. The Equity Scorecard: A Collaborative Approach to Assess and Respond to Racial/Ethnic Disparities in Student Outcomes (Frank Harris III, Estela Mara Bensimon)
The Equity Scorecard, a process for organizational learning designed to foster institutional change through the identification and elimination of racial disparities among college students, is described.
7. Resituating Race into the Movement Toward Multiculturalism and Social Justice (B. Afeni Cobham, Tara L. Parker)
This chapter offers a historical perspective to explain how race has declined in significance as higher education and student affairs have moved toward multicultural social justice.
INDEX.