Responsibility and Justice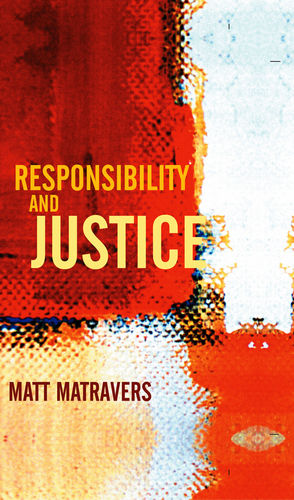 Responsibility and Justice
ISBN: 978-0-745-65586-4
Apr 2013, Polity
176 pages
Description
In this lively and accessible book, Matt Matravers considers the role of responsibility in politics, morality and the law. In recent years, responsibility has taken a central place in our lives. In politics, both Tony Blair and George W. Bush have claimed that individual responsibility is at the centre of their policy agendas. In morality and the law, it seems just that people should be rewarded or punished only for things for which they are responsible. Yet responsibility is a hotly contested concept. Some philosophers claim that it is impossible, while others insist on both its possibility and importance. This debate has become increasingly technical in the philosophical literature, but it is seldom connected to our practices of politics and the law.



Matravers asks, What are we doing when we hold people responsible in deciding questions of distributive justice or of punishment?. By addressing this question, he not only shows how philosophy can help in thinking about current political and legal controversies, but also how we can keep hold of the idea of responsibility in an age in which we are increasingly impressed by the roles of genetics and environment in shaping us and our characters.
Acknowledgements vi
1 The Many Faces of Responsibility 1
2 Thinking about Responsibility 14
3 Responsibility within Distributive Justice 65
4 Responsibility within Retributive Justice 111
5 Responsibility and Justice 140
Notes 146
References 158
Index 165
"This book gives a clear account of the problem that growing doubts about responsibility present for some practises of justice to which we are deeply committed. It also suggests a novel way of approaching that problem without attempting to explain it away. I strongly recommend it to anyone interested in these issues."
Politics
"Since the 1980s, an appeal to an inexamined notion of personal responsibility has increasingly driven public policy, usually in a punitive direction. At the same time, philosophers have been worrying about the problem that, if human actions arise from natural causes, it may be mistaken to hold anybody responsible for anything. Matt Matravers explains the course of the philosophical debate about this extremely lucidly, but his great achievement is to show how the philosophers' worries bear on the way in which we should think about policy questions. The discussion is subtle, but always easy to follow."
Brian Barry, Emeritus Professor, Columbia University and London School of Economics
"Matravers provides a stimulating introduction to the complex modern debates about free will and responsibility, on which he grounds an illuminating and provocative argument about the significance of those debates for our practices of distributive and retributive justice. Students will come to understand how theoretically and normatively problematic those practices are. Theorists and practitioners already familiar with the issues discussed will be challenged to articulate a philosophically defensible conception of responsibility that could structure more morally adequate social, legal and political practices."
Antony Duff, University of Stirling
"This short but ambitious book will provide an excellent advanced introduction to some of the most important debates in moral, legal and political philosophy and an important contribution to debates about redistribution and retribution that extend beyond the academy. Matravers's conclusions are challenging but important. This book should be widely read."
Paul Kelly, London School of Economics
A lively analysis of the concept of 'individual responsibility' – one of the key terms in contemporary political debate

Re-connects the increasingly abstract discussion of moral responsibility to the reality of its practice in politics and law

Offers an original contribution to current discussions in political theory and philosophy

Written by a well respected figure in the field of political philosophy