Responsibility at Work: How Leading Professionals Act (or Don't Act) Responsibly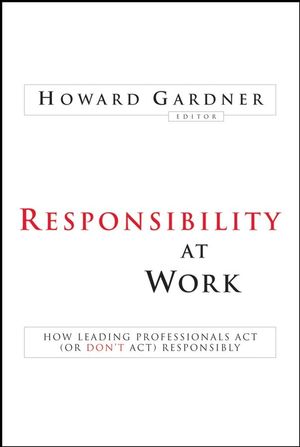 Responsibility at Work: How Leading Professionals Act (or Don't Act) Responsibly
ISBN: 978-0-470-92415-0
Feb 2017, Jossey-Bass
368 pages
Product not available for purchase
Description
Filled with original essays by Howard Gardner, William Damon, Mihaly Csikszenthmihalyi, and Jeanne Nakamura and based on a large-scale research project, the GoodWork® Project, Responsibility at Work reflects the information gleaned from in-depth interviews with more than 1,200 people from nine different professions—journalism, genetics, theatre, higher education, philanthropy, law, medicine, business, and pre-collegiate education. The book reveals how motivation, culture, and professional norms can intersect to produce work that is personally, socially, and economically beneficial. At the heart of the study is the revelation that the key to good work is responsilibilty—taking ownership for one's work and its wider impact.
Introduction.
Who is responsible for good work? (Howard Gardner).
PART ONE: POWERFUL MODELS OF RESPONSIBILITY).
1. Taking ultimate responsibility (William Damon and Kendall Bronk).
2. The ability to respond (Susan Verducci).
3. Creativity and responsibility (Mihaly Csikszentmihalyi and Jeanne Nakamura).
4. A call to serve: An exploration of humane creators (Wendy Fischman).
PART TWO: FACTORS THAT MODULATE RESPONSIBILITY).
5. A balancing act: How physicians and teachers manage time pressures and responsibility (Jeffrey Solomon).
6. Placing God before me: Spirituality and responsibility at work (Seth Wax).
7. Responsibility and leadership (Andreas Schröer).
8. Service at Work (Lynn Barendsen).
9. Beyond the gender stereotype: Responsibilities to self and others (Carrie James).
10. Control and responsibility: A Danish perspective on leadership (Hans Henrik Knoop).
PART THREE: THE LIMITS OF RESPONSIBILITY).
11. Constraining responsibility: Choices and compromises (Laura Horn and Howard Gardner).
12. Irresponsible Work (Howard Gardner).
Part Four: Toward Greater Responsibility).
13. Practicing responsibility (Jeanne Nakamura).
14. The GoodWork Toolkit: From Theory to Practice (Lynn Barendsen and Wendy Fischman).
Conclusion (Howard Gardner).
Index.
"Gardner and his colleagues outline steps that can be taken to build a sense of responsibility and to take ownership for one's work and its wider impact." (
District Administration
, 07/08)
Overall, this book represents a valuable contribution the literature on understanding the meaning of work in our lives. (PsycCRITIQUES, 05/28/08)
"The questions are though-provoking; the responses, profound. Of highest interest is the tool kit that the GoodWork Project has developed." (Nonfiction Philosophy and Psychology)
"The book is well researched and makes for interesting reading that administrators and teachers could all benefit from." (The School Administrator, 04/2008)
"This book appeals to a wide audience as an array of informative and skillfully written insights into the responsibilities, meaning, and ethics of work." (NACADA, 03/11/08)
"Responsibility at work provides strategies for cultivating responsibility in those at work and those who may enter the profession." (Ad-Hoc-News, 10/17/2007)
Gardner's book mentioned in an article - " my favorite chapter is 'Creativity and Responsibility'…." (Daily Herald, 09/12/2007)
Author with a platform:   Howard Gardner is one of the best-known experts on issues of intelligence, education, and human potential.  He averages around 100 speaking engagements per year, and is booked about one year in advance. 
Solid research base:  This is the culminating work from the multi-year "Good Work" research project.  No other publications will contain the results of the entire study.
Implications for a wide range of individuals and organizations: Lessons drawn from 9 different professions.