Responsive Evaluation: New Directions for Evaluation, Number 92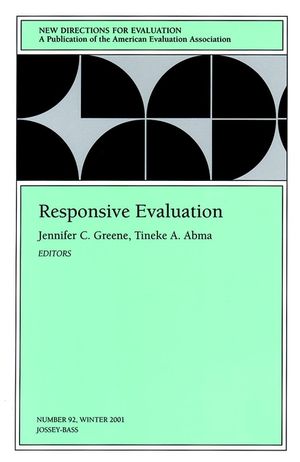 Responsive Evaluation: New Directions for Evaluation, Number 92
ISBN: 978-0-787-95794-0 January 2002 Jossey-Bass 102 Pages
Description
With his 1973 address titled "Program Evaluation, Particularly Responsive Evaluation," Robert Stake offered a new vision and rationale for educational and social program evaluation. In this vision, evaluation was reframed--from the application of sophisticated analytic techniques that address distant policymakers' questions of program benefits and effectiveness "on the average" to an engagement with on-site practitioners about the quality and meaning of their practice. These innovative ideas helped accelerate a transformation of the evaluation enterprise into its current pluralistic character, within which remain multiple and varied legacies of key responsive evaluation principles. This volume offers some of those legacies, representing central epistemological, artistic, and political dimensions of Stake's original commitment to responsiveness.

This is the 92nd issue of the Jossey-Bass series New Directions for Evaluation.
Table of contents
EDITORS' NOTES 1
Jennifer C. Greene, Tineke A. Abma
1. Stake's Responsive Evaluation: Core Ideas and Evolution 7
Tineke A. Abma, Robert E. Stake
From interview and text excerpts, the core ideas of Stake's responsive evaluation are presented, as originally framed and in their evolution over time.
2. Responsive Evaluation (and Its Influence on Deliberative Democratic Evaluation) 23
Ernest R. House
The important contributions of responsive evaluation's orientation to local issues and qualitative methods are highlighted, but also tempered by a rejection of responsive evaluation's relativity in favor of deliberation as a vehicle for adjudicating among competing evaluative claims.
3. Nobody Knows My Name: In Praise of African American Evaluators Who Were Responsive 31
Stafford Hood
A historical accounting of the work of early African American educational evaluators demonstrates the critical place of race and culture in both historical and contemporary visions of responsive evaluation.
4. Becoming Responsive—and Some Consequences for Evaluation as Dialogue Across Distance 45
Yoland Wadsworth
A vision of responsiveness as the political inclusion of marginalized human service providers and end users is offered through the author's critical and sustained efforts to enact this vision in practice.
5. The Changing Face of Responsive Evaluation: A Postmodern Rejoinder 59
Ian Stronach
The meanings of responsive evaluation are deconstructed, yielding numerous tensions within the theory—tensions interpreted as spaces for ongoing reinventions of creative practice.
6. Responsiveness and Everyday Life 73
Thomas A. Schwandt
Responsiveness is connected to our everyday ways of making sense of the value of programs, and thus to a vision of evaluation as indeterminate yet morally engaged with the textures and contours of wise practice.
7. Responsive Evaluation Is to Personalized Assessment . . . 89
Linda Mabry
Parallels are drawn between personalized assessment of student learning and responsive evaluation of educational programs. The parallels are conceptual, epistemological, methodological, and ideological.
INDEX 103