Restaurant Concepts, Management, and Operations, 8th Edition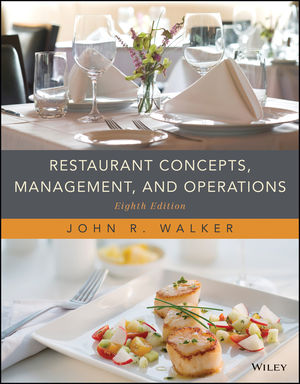 Restaurant Concepts, Management, and Operations, 8th Edition
ISBN: 978-1-119-32610-6 September 2017 444 Pages
Description
TRY (FREE for 14 days), OR RENT this title: www.wileystudentchoice.com

Restaurant Concepts, Management, and Operations, 8th Edition takes the reader from the initial idea to the grand opening. It features comprehensive, applications-based coverage of all aspects of developing, opening, and running a restaurant. This includes topics such as staffing, legal and regulatory concerns, cost control and general financing, marketing and promotion, equipment and design, the menu, sanitation, and concept. A one-stop guide to the restaurant business, the Eighth Edition of Walker's, Restaurant Concepts, Management, and Operations continues the success of previous editions, providing, in an easy-to-read way, all of the skills and information needed to master every challenge and succeed in this highly competitive and rewarding industry. Each chapter has been revised, updated, and enhanced with numerous industry examples, sidebars, charts, tables, photographs, and menus. All of this information will help restaurant owners make the decisions necessary to build a thriving business.
Preface vii
Acknowledgments xi
Part One Restaurants, Owners, Locations, and Concepts 1
Chapter 1 Introduction 3
Early History of Eating Out 5
French Culinary History 6
Birth of Restaurants in America 6
Challenges of Restaurant Operation 12
Buy, Build, Franchise, or Manage? 13
Starting from Scratch 16
Restaurants as Roads to Riches 17
The Chipotle Effect 18
Chapter 2 Restaurants and Their Owners 23
Kinds and Characteristics of Restaurants 24
Sandwich Shops 28
Quick-Service Restaurants 28
Fast-Casual Restaurants 30
Family Restaurants 31
Casual Restaurants 32
Fine-Dining Restaurants 33
Hotel Restaurants 34
Steakhouses 35
Seafood Restaurants 37
Ethnic Restaurants 38
Theme Restaurants 40
Coffee Shops 43
Chef-Owned Restaurants 43
Celebrity Chefs 46
Centralized Home Delivery Restaurants 49
Chapter 3 Concept, Location, and Design 55
Restaurant Concepts 56
Defining the Concept and Market 60
Successful Restaurant Concepts 62
Restaurant Life Cycles 65
Concept Adaptation 67
Restaurant Symbology 69
Multiple-Concept Chains 69
Sequence of Restaurant Development: From Concept to Opening 70
Planning Services 71
Common Denominators of Restaurants 71
Mission Statement 78
Concept and Location 79
Criteria for Locating a Restaurant 79
Location Information Checklist 90
Part Two Restaurant Management 95
Chapter 4 The Menu 97
Considerations in Planning a Menu 98
Capability/Consistency 99
Equipment Capacity and Layout 100
Availability of Ingredients 100
Price and Pricing Strategy 100
Nutritional Value 103
Flavor 109
Accuracy in Menus 110
Menu Items 112
Menu Types 114
Menu Engineering 117
Menu Design and Layout 118
Standardized Recipes 122
Menu Trends 122
Chapter 5 Restaurant Business and Marketing Plans 129
What Business Entity Is Best? 130
Buy–Sell Agreement with Partners 135
Legal Aspects of Doing Business 136
Business Plan 140
The Difference between Marketing and Sales 143
Marketing Planning and Strategy 143
Market Assessment, Demand, Potential, and Competition Analysis 147
Marketing Mix—The Four Ps 149
Chapter 6 Restaurant Leadership and Management 165
Leading Employees 166
The Nature of Leadership 168
Employee Input, and What's in It for Me? 169
Policies and Procedures 170
Management Topics 170
Restaurant Management Issues 175
Chapter 7 Planning and Equipping the Kitchen 189
Back-of-the-House Green 192
Open Kitchen 193
Kitchen Floor Coverings 196
Kitchen Equipment 196
Equipment Stars 200
Maintaining Kitchen Equipment 209
Meeting with the Health Inspector 210
Chapter 8 Food Purchasing 215
Sustainable Purchasing 216
Food-Purchasing System 220
Types of Purchasing 223
Buying Meat 224
Buying Fresh Fruits and Vegetables 226
Chapter 9 Financing and Leasing 233
Financing 234
Sufficient Capital 234
Preparing for the Loan Application 235
Uniform System of Accounts for Restaurants 242
Securing a Loan 247
Leasing 256
What Is a Restaurant Worth? 262
Part Three Restaurant Operations 267
Chapter 10 Bar and Beverages 269
Alcoholic Beverage Licenses 270
Bar Layout and Design 272
Beverages 274
Bartenders 278
Basic Bar Inventory 278
Wines 280
Responsible Alcoholic Beverage Service 289
Third-Party Liability 290
Controls 290
Coffee and Tea 291
Chapter 11 Budgeting and Control 297
Restaurant Operations 298
Front of the House 298
Back of the House 303
Control 305
Inventory Control 306
Food Costing 307
Liquor Control 308
Controllable Expenses 311
Labor Costs 312
Labor Management 317
New Overtime Rule 317
Financial Reporting 318
E-learning 318
Guest Check Control 318
Productivity Analysis and Cost Control 319
Chapter 12 Food Production and Sanitation 325
Our Culinary Heritage 326
Native American Influence 326
African-American Influence 327
Italian Influence 327
French Influence 327
Receiving 331
Storage 332
Food Production 333
Production Procedures 336
Staffing and Scheduling 337
Foodborne Illness 337
Hazard Analysis of Critical Control Points 344
Common Food Safety Mistakes 346
Approaches to Food Safety 347
Food Protection as a System 348
Chapter 13 Organization, Recruiting, and Staffing 353
Job Descriptions 354
Organizing People and Jobs 357
Staffing the Restaurant 357
Civil Rights Laws 367
Questions to Avoid on the Application Form and During the Interview 369
Careful Selection of Staff 373
Chapter 14 Training and Service 379
Orientation 380
Part-Time Employees 381
Training and Development 381
Methods for Training Employees 389
Service 392
Tact: Always 403
Glossary 407
Index 417
New reorganization of the chapters: This edition is condensed to 14 chapters, now better fitting a traditional semester schedule and consolidated for a more coherent read.
Information on minimum wage, food trucks, gluten-free cooking, and menu items is now included.
Numerous Industry Examples are interspersed throughout to help students understand the topics and concepts being discussed.
Examples and discussions of the overtime rule, new restaurant concepts and their founders are now included.
New sections on successful strategies in healthy eating, veganism, and vegetarianism, and how they all relate to the restaurant business, are now included.
An increased focus toward the independent restaurateur has been continued for this new edition.
Restaurant Profiles are featured at the beginning of each of the five parts of the book. These profiles highlight a particular restaurant and detail all components of its organization.
Additional emphasis on restaurant business plans, restaurant management, and operations is included in this new edition.
Comprehensive and reader friendly approach to all the basics
Takes readers step-by-step through the complicated process of planning, creating, and opening any type of restaurant
Includes information on topics such as staffing, legal and regulatory concerns, cost control and general financing, marketing and promotion, kitchen planning and design, the menu, sanitation and concept
Strong pedagogical features such as learning objectives, key terms and concepts, and review questions in each chapter
Includes up-to-date restaurant profiles, as well as sidebars offering advice, charts, tables, photographs and menus