Restaurant Financial Basics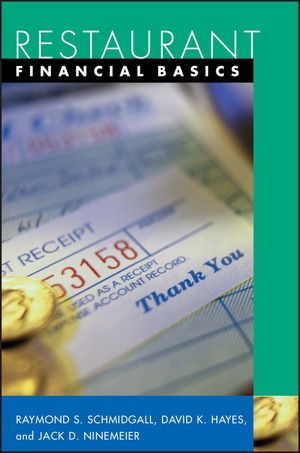 Restaurant Financial Basics
ISBN: 978-0-471-21379-6 October 2002 352 Pages
Description
One of the keys to a successful restaurant business is strong financial management. This volume in the Wiley Restaurant Basics Series provides restaurateurs with the tools necessary to manage their food-based operation by explaining basic accounting principles such as pricing, budgeting, cost control, payroll, and cash flow.
Table of contents
Preface.

1. Introduction to Financial Management.

2. Debits and Credits-The Mechanics of Accounting.

3. The Balance Sheet.

4. The Income Statement.

5. Analysis and Interpretation of Financial Statements.

6. Cash Flow.

7. Understanding Cost Concepts and Break-even.

8. Pricing for Profits.

9. Operating Budgets.

10. Accounting Aspects of Food and Beverage Control.

11. Payroll Accounting.

12. Accounting for Fixed and Other Assets.

13. Cash and Revenue Control.

Recommended Reading.

Index.
Features
First book about managing the finances of a restaurant business.
Authors: Schmidgall is the leading authority on accounting and financial issues in the foodservice industry and all authors have a combination of industry and academic experience which allows them to provide key concepts in an instructional but professional-level way.
Provides basic financial information with restaurant applications, so it is aimed at the Restaurant Owner/Manager rather than the generic small business owner.
Includes information on such important topics as payroll, pricing, revenues, costs, and cash flow.
A separate chapter on how to value a restaurant business for sale or purchase.
Part of the Wiley Restaurant Basics Series