Restaurant Planning, Design, and Construction: A Survival Manual for Owners, Operators, and Developers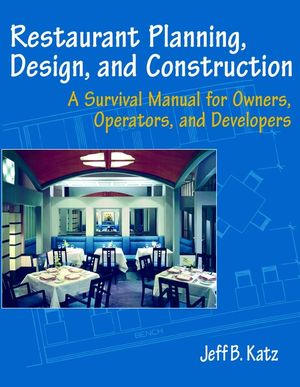 Restaurant Planning, Design, and Construction: A Survival Manual for Owners, Operators, and Developers
ISBN: 978-0-471-13698-9
Jan 1997
264 pages
Description
A complete blueprint for all types of restaurant development—from concept through construction

Whether you are planning a small neighborhood bistro or an expansive hotel eatery, Restaurant Planning, Design, and Construction provides you with the specific information and in-depth guidance you need to navigate the restaurant development process effectively. With easy-to-use worksheets, checklists, review procedures, and guidelines, this comprehensive manual can help you to avoid the pitfalls of miscommunication, omission, and faulty execution that can mean the difference between your success and failure. Taking you step by step through each phase of the development process, the book shows you how to:
Assemble and manage your restaurant development team
Prepare a marketable business plan to use when seeking financial backing
Approach site evaluation, budgets, scheduling, and more
Write a detailed operational plan of how the restaurant will function
Prepare an effective design program to fulfill your operational requirements
Coordinate key elements of planning and design
Manage the construction phase, pre-opening activities, and follow-up
No matter what your business background—catering, marketing, management, or finance—this self-contained guide is one resource you will not want to be without.
Restaurant Development.

Choosing and Managing Your Development Team.

Preparing a Marketable Business Plan.

Refining Your Concept and Writing the Operational Plan.

Preparing the Design Program.

Planning and Design.

The Construction Phase: Building Your Restaurant.

Index.