Restoration Drama: An Anthology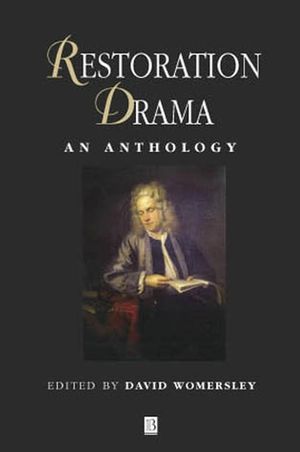 Restoration Drama: An Anthology
ISBN: 978-0-631-20903-4 April 2000 Wiley-Blackwell 840 Pages
Description
This new anthology provides seventeen key plays by twelve dramatists of the Restoration period in an anthology designed specifically for course use, with annotations and judiciously modernized texts. It offers a representative sampling of the types of play of the period, including plays by both men and women - sex comedy, moral comedy, heroic drama, Shakespearean adaptation and political history.
Table of contents
Introduction. A Note on The Text.
1. The Adventures of Five Hours. (1662) Sir Samuel Tuke.
2. The Great Favourite, or The Duke of Lerma. (1668) Sir Robert Howard.
3. The Conquest of Granada. (1670) John Dryden.
4. The Rehearsal. (1671) Buckingham.
5. The Country Wife. (1675) William Wycherley.
6. The Plain Dealer. (1676) William Wycherley.
7. The Man of Mode. (1676) Sir George Etherege.
8. The Rover. (1677) Aphra Behn.
9. All for Love. (1677) John Dryden.
10. Lucius Junicus Brutus. (1680) Nathaniel Lee.
11. Venice Preserved. (1682) Thomas Otway.
12. Love for Love. (1695) William Congreve.
13. Love's Last Shift. (1696) Colley Cibber.
14. The Relapse. (1696) Sir John Vanbrugh.
15. The Way of the World. (1700) William Congreve.
16. The Recruiting Officer. (1706) George Farguhar.
17. The Beaux Stratagem. (1707) George Farquhar.
18. The Busie Body. (1709) Susannah Centlivre.
Further Reading.
Index.
Reviews
"The whole task is carried out with exemplary clarity and charm . . .There is no more recommendable anthology of Restoration plays available today".
Notes and Queries <!--end-->
"The page layout is attractively and thoughtfully designed, avoiding, for instance, frequent run-overs of lines in verse passages. Students exploring this collection will be presented with a wealth of fascinating and innovative writing in reliable editions, and the richest sampling of the post-1660 drama currently available in a single volume." The Review of English Studies

"David Womersley's Restoration Drama is easily the most comprehensive anthology available to date. Each of Womersley's introductions to the plays are wonderfully compact mini-guides to the plays, providing information on the author, the sources, the context and stage-history, and pointing out some of the complexities raised by the work. The explanatory notes, though kept to a minimum, are relevant and helpful. What distinuguishes the present collection from its predecessors is the editor's attempt to do justice to the multifarious nature of Restoration drama. All in all . . . this is a most valuable (and moderately priced) collection, which is likely to supersede classroom texts currently used. Future editors and publishers of Restoration plays would do students and scholars a true favour by following Womersley's and Blackwell's lead in striking out in new directions and opening up for further study the full panorama of Restoration drama." English Studies
Features
* Offers a truly representative sample of all kinds of plays across the entire period.
* Includes work by women playwrights.