Restructuring Chronic Illness Management: Best Practices and Innovations in Team-Based Treatment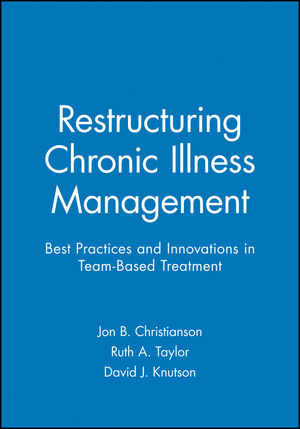 Restructuring Chronic Illness Management: Best Practices and Innovations in Team-Based Treatment
ISBN: 978-0-470-63102-7 April 1998 Jossey-Bass 228 Pages
Description
Caring for Chronically Ill Patients
Building on a thoughtful understanding of the organizational, financial, and clinical issues involved in chronic illness, Christianson and his colleagues provide a useful road map to the design and implementation of team-based chronic illness management. A must read for policy makers and managers wishing to meet the challenge of providing quality and efficient care to the chronically ill.
--Arnold D. Kaluzny, professor of health policy and administration, School of Public Health and Senior Research, University of North Carolina at Chapel Hill
This practical new book offers the most current information on how leaders of top clinical programs have implemented exemplary and cost-conscious programs to manage the care of four key chronic diseases: asthma, arthritis, diabetes, and coronary artery disease.
Grounded in research, the book introduces a model and practical tool that can be used by healthcare organizations to effectively treat chronically ill patients. And, because the model and tool are based on the actual experiences of ongoing programs, the authors discuss organizational strategies that will help overcome the inevitable resistance to change. A step-by-step program is outlined for health care executives and caregivers who want to implement these best practices in their institutions. With a wealth of information and illustrative examples, the authors explain how a health care organization can restructure and revitalize its approach to managing chronic illness...without breaking the bank.
1. The Challenge of Managing Chronic Illness: Pressures and Options
2. Defining the Chronic Illness Management Team.
3. Learning from Clinical Research.
4. Learning from Management Models.
5. Challenges in Applying Work Group Models.
6. Work Group Models in Action: Experiences of Ongoing Programs.
7. Principles in the Design and Implementation of Chronic Illness Management Programs.
8. How to Approach Restructuring Chronic Illness Management Programs.
9. A Guide to Implementation.
Appendix: Assessing Organizational Readiness for Restructuring Chronic Illness.