Restructuring Health Care: The Patient-Focused Paradigm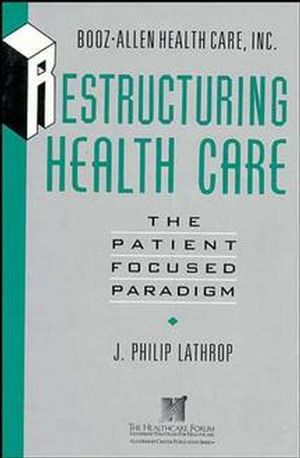 Restructuring Health Care: The Patient-Focused Paradigm
ISBN: 978-1-555-42594-4 October 1993 Jossey-Bass 218 Pages
Description
A Patient-Focused Paradigm

Brilliant and timely, thoughtful and practical. Regradless of the final shape of health care reform in the U.S., the patient-focused idea can and must be implemented. Bravo!
--Tom Peters, coauthor of In Search of Excellence and author of Liberation Management

This in-depth book offers advice on how health care operations can shift from hierarchical organization structures to patient-focused approaches. Uses a wealth of examples to illustrate the challenges faced by organizations that have undertaken this type of restructuring.
Table of contents
1. What's the Big Problem?

2. The Nature of Structural Change.

3. Compartmentalization and Its Discontents: High Cost and Poor Service.

4. Patient Focus Begins with Demand.

5. The Structure of a New Paradigm.

6. Patient Aggregation: From Nursing to Patient Care Centers.

7. Initial Deployment Decisions.

8. Enablers for Change.

9. Does It Work?

Epilogue: The Patient-Focused Enterprise.
Reviews
"Philip Lathrop's book is brilliant and timely, thoughtful, and practical. Regradless of the final shape of health care reform in the U.S., the patient-focused idea can and must be implemented. Bravo!" (Tom Peters, coauthor of In Search of Excellence and author of Liberation Management)