Restructuring Shared Governance in Higher Education: New Directions for Higher Education, Number 127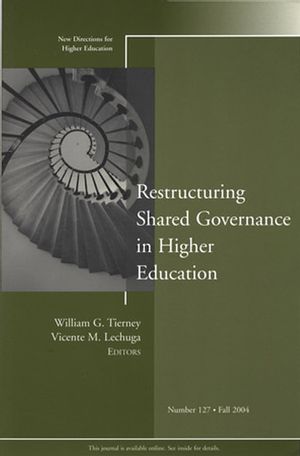 Restructuring Shared Governance in Higher Education: New Directions for Higher Education, Number 127
ISBN: 978-0-787-97768-9
Sep 2004, Jossey-Bass
112 pages
Description
Shared governance has been a hallmark of higher education in the United States since the early twentieth century. Since its inception, faculty, administrators, trustees, and other interested parties have either bemoaned or celebrated the idea. We offer a variety of viewpoints that bring to light various ways to think of shared governance. The intent is to foment dialogue and debate about the shape of shared governance for the future. Our assumption is that many challenges are at academe's doorstep that may require significant changes. If those of us who work in colleges and university are not well organized to deal with those challenges, the solutions that we develop will be love's labors lost. Governance is the means to implementing ideas that either respond to problems or provide new strategies. If academic governance is ineffective, then it needs to be reformed. The shape of those reforms is what the authors of this volume consider.

Chapters address the subject of shared governance from several perspectives, including partnerships between the state and higher education; disjointed governance in university centers and insitutes; a cultural perspective on communication and governance; and balancing governance structures with leadership and trust. Contributors also explore a conceptual framework of faculty trust and participation in governance.

This is the 127th issue of the Jossey-Bass quarterly report series New Directions for Higher Education.
Editors' Notes (William G. Tierney, Vicente M. Lechuga).
1. The End of Shared Governance: Looking Ahead or Looking Back (Robert Birnbaum). Diminishing the faculty role in governance is likely to result in a decrease of institutional effectiveness.

2. Do Governance Structures Matter? (Gabriel E. Kaplan).
There are few significant relationships between how governance organizes and vests authority, on the one hand, and outcomes, on the other.

3. What Is More Important to Effective Governance: Relationships, Trust, and Leadership, or Structures and Formal Processes? (Adrianna Kezar).
Colleges and universities can build effective governance by focusing on leadership, trust, and relationships rather than on structures and processes.

4. The State and Higher Education: An Essential Partnership (Paul E. Lingenfelter).
Structural changes and improvements in governance are needed to ensure that the next generation has the opportunity for an affordable, ­high-quality education.

5. Disjointed Governance in University Centers and Institutes (William Mallon).
There are structures, processes, and participants that infringe on how traditional governance works and play a role in institutional decision making.

6. A Conceptual Framework of Faculty Trust and Participation in Governance (Myron L. Pope).
To facilitate the formation of an organizational culture that supports effective governance, trust needs to become a serious topic of inquiry in research pertaining to universities.

7. A Cultural Perspective on Communication and Governance (William G. Tierney, James T. Minor).
Communicative processes are central to organizational effectiveness and provide a means from which to improve governance.

8. Exploring Current Issues on Shared Governance (Vicente M. Lechuga).
Current literature on shared governance provides a greater understanding of the critical issues relating to its future.
Index.