Restructuring in the Classroom: Teaching, Learning, and School Organization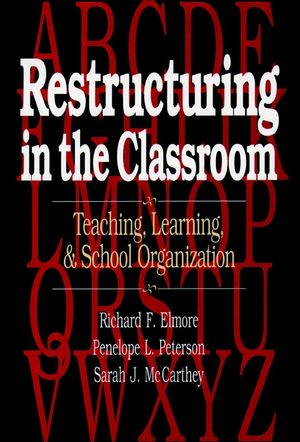 Restructuring in the Classroom: Teaching, Learning, and School Organization
ISBN: 978-0-787-90239-1
Mar 1996, Jossey-Bass
288 pages
Description
By melding policy analysis and up-close observation, the authors illuminate the really hard issues in improving instruction. This book will shape educational research and reform for many years to come.


?David Tyack, Vida Jacks Professor of Education and History, Stanford University
1. Introduction: The Puzzle of Organization and Practice.

LAKEVIEW SCHOOL.

2. A Principal Leads the Way.

3. Teams and Themes.

4. Self-Esteem and Self-Expression.

5. Structure and Practice.

WEBSTER ELEMENTARY SCHOOL.

6. The Development of a District's Flagship.

7. Active Learning in Mathematics.

8. Developing Teams.

9. A Model of School Restructuring?

NORTHEASTERN ELEMENTARY SCHOOL.

10. An Alternative School is Born.

11. Reading and Writing.

12. Learning Science.

13. Fitting Structure to Practice.

14. Conclusion: Restructuring Teaching.
"A lucid, vivid, and persuasive account of the slippery relationship between school organization and classroom teaching. By melding policy analysis and up-close observation, the authors illuminate the really hard issues in improving instruction. This book will shape educational research and reform for many years to come." (David Tyack, Vida Jacks Professor of Education and History, Stanford University)

"A compelling demonstration that innovative organizational structures are often appropriated to enact teachers' prior conceptions of teaching. This confirms what our studies have found: that changes in school structure or even in teaching practice offer no guarantees for enhancing the intellectual quality of student learning." (Fred M. Newman, director, Center on Organization and Restructuring of Schools, and professor of curriculum and instruction, University of Wisconsin, Madison)