Results Now for Nonprofits: Purpose, Strategy, Operations, and Governance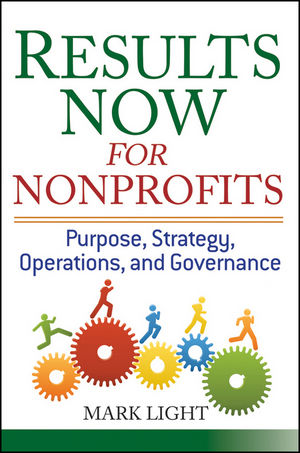 Results Now for Nonprofits: Purpose, Strategy, Operations, and Governance
ISBN: 978-0-471-75824-2
Feb 2011
287 pages
Product not available for purchase
Description
Build your nonprofit into a high performer with this practical approach to purpose, strategy, operations, and governance
Planning is vital to achieving your nonprofit's purpose—too bad most nonprofits are strapped for time. Not anymore.
Using a lightning-fast and inclusive process, Results Now® puts purpose, strategy, operations, and governance into one user-friendly, comprehensive plan that your board can pass in a single vote and your organization can maintain as a regular part of its business throughout the year.
Results Now for Nonprofits relies on accountability and performance measurement to increase the level of effective decision-making. This "big picture first, details next" planning process helps you:
Use the Results Now master plan as a centerpiece of board meetings and as a standard part of board meeting advance information

Foster a welcome climate for give-and-take strategic thinking

Clarify the organization's story for the community and keep people on point about what's important

Develop team cohesion

Orient newer leadership members and recharge seasoned ones

Attract new funders who reward nonprofits who plan
A must-have for all nonprofit executives and directors, members of boards and trustees, and nonprofit managers, Results Now for Nonprofits is a results-driven, practical tool that will help your organization achieve its mission, values, and destiny.
Preface.
Acknowledgments.
Part I: Setting the Frame.
Chapter 1: The Four Pillars of High-performance.
Defining High Performance.
The Third Envelope.
Chapter 2: Planning Rules.
Just Say No.
Just Say Yes.
Show Me the Money.
Bottom Lines.
Chapter 3: All Together.
Master Plan.
Be Quick.
Part II: Purpose.
Chapter 4: Values.
Getting Real.
Talk that Walks.
Chapter 5: Mission.
Who are our Customers?
What Difference do we Make?
How are we Better than our Rivals?
The Sweet Spot.
Hoop Dreams.
Part III: Strategic Plan.
Chapter 6: Lines of Business.
What Are We Doing Now.
Means and Ends.
Making Lines of Business.
Chapter 7: Success Measures.
Measuring Unmeasurable.
Why Measure.
Making Success Measures.
Chapter 8: Vision Statement.
Vision Types.
Making Statements.
Chapter 9: Vision Strategies.
Making Strategies.
Part IV: Operating Plan.
Chapter 10: Goals.
Department Map.
Making Goals.
Chapter 11: Budget.
Part V: Governance Plan.
Seven Realities.
Chapter 12: Delegation.
Low Hanging Fruit.
Duties.
Guidelines.
Chapter 13: Accountability.
Agendas.
Assessments.
Chapter 14: Smart Board.
Help Me Help You.
Adding Value.
Appendix A: BAM.
Appendix B: First Cut.
Appendix C: Final Answer.
Appendix D: Board Meeting Advance Information Template.
Notes.
About the Author.
Index.