Retail Business Kit For Dummies, 2nd Edition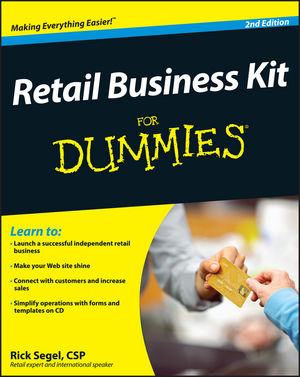 Retail Business Kit For Dummies, 2nd Edition
ISBN: 978-0-470-52575-3
Mar 2009
408 pages
Description
Whether you're a novice or a seasoned retail entrepreneur, Retail Business Kit For Dummies shows you how to start and run your business in today's retail marketplace—from your original dream and the day-to-day operation to establishing a connection with customers and increasing your sales, both on the Web and at a brick-and-mortar shop.

In this practical, how-to guide, retail expert Rick Segel shares his expertise and reveals what it takes to be successful. You'll get a handle of the basics of launching and growing your business, from writing a business plan and finding a great location to hiring and keeping great staff. Find out how to meet and exceed customer expectations, create a positive shopping experience, provide top-notch customer service, and earn customer loyalty.  Discover how to:
Launch a successful independent retail business
Create a Web site that shines
Connect with customers and increase sales
Handle legal and accounting issues
Design stores that really work
Practice the 10 keys to retail selling
Use management practices proven in the trenches
Make visual merchandising work for you
Make your new venture succeed beyond your wildest dreams with a little help from Retail Business Kit For Dummies!
Note: CD-ROM/DVD and other supplementary materials found in the print version of this title are not included as part of eBook file.
Introduction.
Part I: Testing the Retail Waters.
Chapter 1: Retailing: How It Really Works and How It Can Work for You.
Chapter 2: Defining Your Vision: It Starts with a Dream.
Chapter 3: Branding: Making Your Business Memorable.
Chapter 4: Get ting to Know Your Customers Before You Even Have Any.
Part II: Settin' Up Shop.
Chapter 5: Location, Location, Location: Finding the Right Place to Do Business.
Chapter 6: Designing Stores That Work.
Chapter 7: Choosing Your Merchandise: What to Buy and Where to Find It.
Chapter 8: Get ting the Goods: Controlling Your Buying.
Part III: Detailing the Retailing.
Chapter 9: Creating the Business Plan and Structure.
Chapter 10: The F ine Print: Crossing the T's and Dotting the I's.
Chapter 11: Creating Your In ternal Systems: The Day-to-Day Stuff.
Chapter 12: Finding, Hiring, and Keeping a Great Staff.
Chapter 13: Money Matters: Accounting for Money Coming In and Going Out.
Part IV: Spreading the Word Without Going Broke!
Chapter 14: Generating Word-of-Mouth Advertising.
Chapter 15: Advertising Vehicles: What to Include in Your Arsenal.
Chapter 16: Signage: The Underutilized Killer Resource.
Chapter 17: Setting Up Successful Sales and Promotions.
Part V: Selling Made Simple.
Chapter 18: Selling the Soft, Suggestive Way.
Chapter 19: Visual Merchandising for the Artistically Deprived and Financially Handicapped.
Chapter 20: Selling Online: It's an E-World.
Part VI: The Part of Tens.
Chapter 21: Ten Keys to Retailing Success.
Chapter 22: Ten Secrets of Extraordinary Customer Service.
Chapter 23: Ten Proven Management Practices.
Appendix: About the CD.
Index.