Retaining Your Foodservice Employees: 40 Ways to Better Employee Relations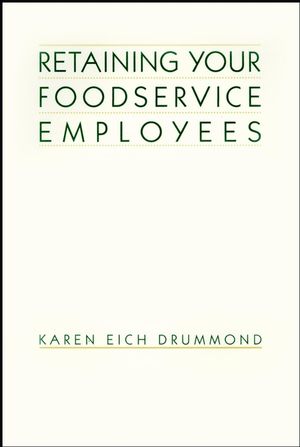 Retaining Your Foodservice Employees: 40 Ways to Better Employee Relations
ISBN: 978-0-471-29062-9 September 1991 224 Pages
Description
Retaining Your Foodservice Employees is the second in a series of three books by Karen Eich Drummond on Foodservice Employee Management. The other two titles are Staffing Your Foodservice Operation and Disciplining Your Foodservice Employees. Employee turnover represents a major concern for foodservice operators—particularly when you consider that half of all restaurant employees leave their jobs within the first 30 days. With firings or resignations come costs: expenses for recruiting and training a new candidate as well as overtime costs incurred while the position is vacant. And beyond the immediate dollar loss, high employee turnover reduces employee morale and job performance, which can result in a significant loss of customers—and profits. Retaining Your Foodservice Employees recognizes that successful foodservice operations can no longer treat employees as disposable assets, especially in light of today's dwindling pool of workers. This quick-reference guide shows you a wide range of strategies for increasing a staff member's employment period and keeping turnover to a minimum. This innovative volume identifies what today's employees want out of their jobs. You'll get a clear understanding of workers' needs that include
interesting work
a manager who respects, trusts, and cares about them
clearly communicated performance goals
good pay and benefits
and comfortable working conditions.
You'll also find specific actions you can take to meet these employee needs such as listening to your employees, coaching them for better performance, and using your supervisory skills to encourage positive, motivational teamwork. You'll learn how to inform and involve employees and use reward programs and career ladders to retain productive employees. Practical worksheets at the end of each chapter help you idenfity—and correct—specific areas where your business can improve. Actual on-the-job examples of improved communication and successful reward programs will help you generate ideas that you can apply to your own program. As a complete guide to a critical industry-wide problem, Retaining Your Foodservice Employees will be essential reading for all commercial and institutional foodservice managers and owners.
Employees Want the Big Picture.

Employees Want to Work for a Manager Who Respects, Trusts, and Care About Them.

Employees Want Clearly Communicated Performance Expectations That are Supported by Management.

Employees Want to Be Rewarded.

Employees Want to Do Interesting, Important, and Challenging Work.

Employees Want Managers Who Know What They Are Doing and Who Are Good Role Models.

Employees Want Good Pay, Benefits, and Working Conditions.

Appendices.

Index.