Rethinking Faculty Work: Higher Education's Strategic Imperative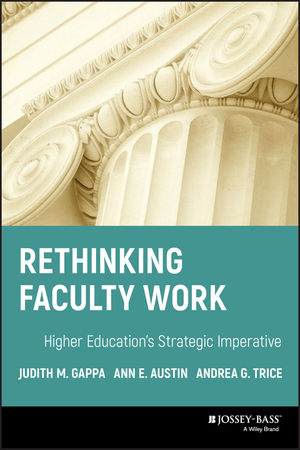 Rethinking Faculty Work: Higher Education's Strategic Imperative
ISBN: 978-0-787-96613-3 January 2007 Jossey-Bass 400 Pages
Description
Written for educators, administrators, policy makers, and anyone else concerned with the future of higher education, Rethinking Faculty Work shows how changes in higher education are transforming the careers of faculty and provides a model that makes it possible for all faculty to be in a position to do their best. This important resource offers a vision of academic workplaces that will attract superb faculty committed to fulfilling the missions of the universities and colleges where they work.
Table of contents
Preface.
About the Authors.
PART ONE: HIGHER EDUCATION' S CHANGING CONTEXT.
1. The Changing Context for Faculty Work and Workplaces.
2. Trends in the National Workplace.
3. Faculty Appointments and Faculty Members: Diversification, Growth, and Diversity.
4. The Academic Profession Today: Diverse Appointments to Meet Diverse Needs.
5. Attracting and Retaining Excellent Faculty.
PART TWO: THE FRAMEWORK.
6. The Framework of Essential Elements.
7. Respect: The Foundation for the Essential Elements.
8. Shared Responsibility and Joint Leadership.
PART THREE: THE ESSENTIAL ELEMENTS.
9. Equity in Academic Appointments.
10. Academic Freedom.
11. Ensuring Flexibility in Academic Appointments.
12. Professional Growth.
13. Collegiality.
14. Why Rethink Faculty Work and Workplaces? A Call to Action.
References.
Name Index.
Subject Index.
Reviews
"an exceptionally lucid analysis of the gap that has opened up between academic careers in the golden age and the reality of faculty appointments today." (Change, Sept/Oct)