Rethinking Sales Management: A Strategic Guide for Practitioners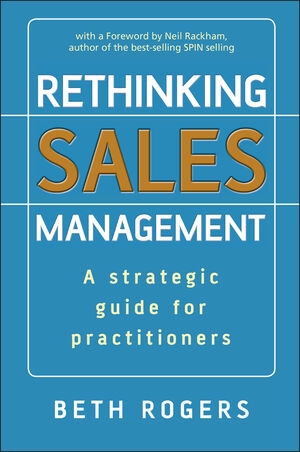 Rethinking Sales Management: A Strategic Guide for Practitioners
ISBN: 978-1-119-99551-7
Feb 2011
314 pages
Description
Until recently, sales managers received no specific training for their jobs. However, selling has become more complex with the emergence of regulations and more sophisticated customers. Sales managers need to inspire and achieve sales results by managing teams of professionals and other resources. To do so, they need guidance on dealing with issues that arise in these broader aspects of their role.

This concise guide for sales managers is based on a well-known sales management technique called the 'customer portfolio matrix'. Beth Rogers weaves her version of this throughout, enabling sales managers to see their strategy from the customer's point of view. Doing so will allow them to set realistic objectives, design new strategies that add real customer value, avoid wasting time on price-oriented customers and deploy resources for maximum results.
Acknowledgements
This book draws on research and contributions from universities and institutions in over 20 countries including the American Productivity and Quality Center, the Caux Round Table, the Supply Chain Executive Board, AIDA Marketing e Formazione, United Professional Sales Association, Purchasing Management Association of Canada, the Association of the British Pharmaceutical Industry.
Foreword
From Neil Rackham, creator of SPIN Selling, lead author of "Rethinking the Salesforce" and Visiting Professor, Univeristy of Portsmouth Business School
Introduction
PART 1 - Strategy
Chapter 1 – The big picture
Chapter 2 – The purchaser's view
Chapter 3 – The B2B relationship development box
PART 2 - Using the relationship development box
Chapter 4 – Strategic relationships
Chapter 5 – Prospective Relationships Chapter 6 – Tactical relationships: the power of low touch
Chapter 7 – Co-operative relationships
Chapter 8 – The end of relationships
PART 3 - Focus for 21st century sales management
Chapter 9 - Reputation management
Chapter 10 - Working with marketing
Chapter 11 - Leadership
Chapter 12 - Process management 
"…a serious, grown-up book on sales, full of relevant theory and practical examples of how sales can be more strategic and effective." (
The Marketer
, September 2007)
""an excellent, concise and well-written guide, full of examples and references, based on the author's deep and sustained experience"". (B2B Marketing Online, Friday 7th September 2007)
""…helps sales teams become more successful by seeing the deal from the customer's view."" (The Daily Telegraph, Tuesday 25th September 2007)
""Rogers uses copious box-outs and diagrams, and sources virtually all the latest evidence on business selling from around the world.""  (Salesforce, January 2008)
""...Rogers uses copious box-outs and diagrams and, as befits an academic, sources virtually all the latest evidence"" (Winning Edge, December 2008)