Rethinking the Sociology of Mental Health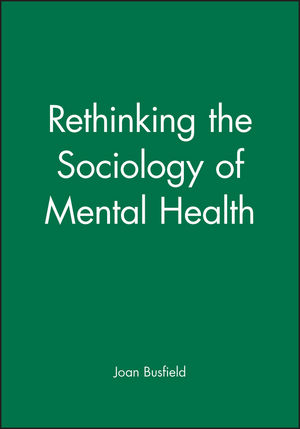 Rethinking the Sociology of Mental Health
ISBN: 978-0-631-22185-2 March 2001 Wiley-Blackwell 180 Pages
Description
Rethinking the Sociology of Mental Health is a collection of original papers introducing new ways of thinking sociologically about the terrain of mental health. There are more general papers about mental health and mental health policy and papers about specific types of mental illness and particular policy issues such as dangerousness.
1. Introduction: Rethinking the sociology of mental health: Joan Busfield.
2. Reason, emotion and embodiment: is 'mental' health a contradiction in terms?: Simon J. Williams.
3. Disability, impairment or illness? The relevance of the social model of disability to the study of mental disorder: Julie Mulvany.
4. 'It's a small world': mental health policy under welfare capitalism since 1945: Mick Carpenter.
5. Psychiatric diagnosis under conditions of uncertainty: personality disorder, science and professional legitimacy: Nick Manning.
6. A phenomenology of fear: Merleau-Ponty and agoraphobic life-worlds: Joyce Davidson.
7. Identifying delusional discourse: issues of rationality, reality and power: Derrol Palmer.
8. Civil commitment due to mental illness and dangerousness: the union of law and psychiatry within a treatment-control system: Bernadette Dallaire, Michael McCubbin, Paul Morin and David Cohen.
9. Rethinking professional prerogative: managed mental healthcare providers: Teresa L. Scheid.