Retire Rich: The Baby Boomer's Guide to a Secure Future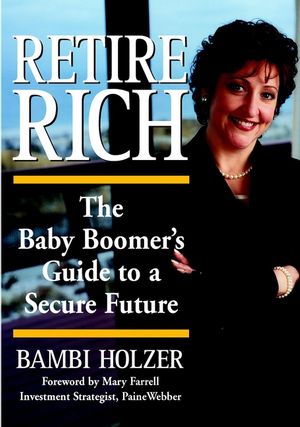 Retire Rich: The Baby Boomer's Guide to a Secure Future
ISBN: 978-0-471-24782-1
Mar 1998
240 pages
Product not available for purchase
Description
WHAT DOES RETIREMENT MEAN TO YOU?

Will your retirement be a comfortable and enjoyable new stage of adulthood or a time of uncertainty, strict economizing, and reduced options? As retirement planning guru Bambi Holzer explains, the choice is yours but the time to act is now, while you re still earning a steady income. Written by a baby boomer for baby boomers, in clear, nontechnical language, Retire Rich takes the fear and mystery out of planning, saving, and investing for the future, whether you re just getting started or well along in your retirement planning. Enhanced by helpful charts, tables, and worksheets, Retire Rich offers you a golden opportunity to secure your financial future and enjoy the peace of mind that comes with taking charge of this very important part of your life.

"With Bambi s help and advice, a person can truly plan successfully for a secure retirement. Every baby boomer will benefit from reading this book." Donald A. Connelly, Senior Vice President, Putnam Investments

"Entrepreneurs lose sleep worrying about managing their money every night. Bambi Holzer s readable book provides clear, in-depth strategies for managing your personal funds, pensions, and investments." Jane Applegate, author of 201 Great Ideas for Your Small Business

"If you re starting to think about investing for retirement, follow this clear, easy-to-understand road map to financial survival. Don t invest without reading Bambi Holzer s book first." David Horowitz, Consumer Advocate, Fight Back! Productions

"An accurate and practical resource, easily understandable by nontechnical readers boomer or not." Dennis Duitch, Senior Partner, DPS & Company, LLP

A money book club selection
PLANNING.

Retirement Planning for a New Generation.

Thinking about Retirement: Imagining the Perfect Life.

How Much Retirement Income Will You Need?

How Much Do You Need to Save?

SAVING.

Retirement Plans at Work: Making the Most of Your Employer-Sponsored Plan.

Retirement Plans for Business Owners and Self-Employed Individuals.

Individual Retirement Accounts: A Retirement Plan for Everyone.

Other Tax-Advantaged Ways to Save.

INVESTING.

Making Your Retirement Fund Grow: Fundamentals of Investing.

Understanding Stocks.

Understanding Bonds.

Understanding Cash and Cash Equivalents.

Understanding Mutual Funds.

Asset Allocation.

MONITORING.

Monitoring and Managing.

Keep Your Eyes on the Horizon.

Index.