Retreats That Work: Designing and Conducting Effective Offsites for Groups and Organizations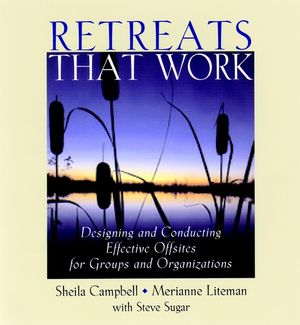 Retreats That Work: Designing and Conducting Effective Offsites for Groups and Organizations
ISBN: 978-0-787-96793-2
Feb 2003, Pfeiffer
352 pages
Description
Retreats That Work is a practical, easy-to-use guide, full of step-by-step instructions for leading a wide variety of tested exercises. You'll learn how to design and facilitate retreats that will keep participants energized and on-task. Campbell and Liteman know what can go wrong at a retreat and what to do about it. They know how to turn difficult situations around and how to deal effectively with conflict, difficult participants, and resistance to change. With Retreats That Work, you will too.
Acknowledgments.
Introduction.
SECTION ONE: The Convenor?s Guide to Ensuring a Successful Retreat.
Chapter 1. So You?re Thinking of Holding a Retreat.
Nine Reasons to Hold a Retreat.
Guiding Principles for Retreat Design.
Ten Reasons Not to Hold a Retreat.
Kinds of Retreats.
Who?s Who in Planning a Retreat.
Chapter 2. Setting the Goals, Deciding the Format, and Inviting the Participants.
Last Things First?What Do You Want to Be Different?
Who Should Facilitate?
Whom Should You Invite?
Using a Specialized Retreat Format.
Involving Participants in Retreat Planning.
Chapter 3. Planning Retreat Logistics.
How Long Should a Retreat Last?
When Should You Schedule Your Retreat?
Where Should You Hold Your Retreat?
Sleeping Rooms and Meals.
Sports and Recreation.
Notifying Participants.
Chapter 4. The Role of Leaders at the Retreat.
Reaching an Understanding About Participants? Authority.
Leadership Behavior During the Retreat.
A Common Post-Retreat Concern.
SECTION TWO: The Facilitator?s Guide to Designing and Planning the Retreat.
Chapter 5. Retreat Design Issues.
Aligning Yourself with the Convenor.
Pre-Retreat Interviews with Participants.
Identifying the Scope of Issues and Creating the Retreat Plan.
Capturing the Work Product.
Using Behavioral Assessments.
Pre-Work for Retreat Participants.
Using ?White Space?.
Thinking About Logistics.
Sins of Omission: The Top Ten Retreat Design Mistakes.
Special Design Considerations for Board Retreats.
Design Issues for a Series of Retreats.
Chapter 6. Retreat Design Components.
Introduction.
Ground Rules.
Individual Check-In.
Giving Feedback to the Group.
Content Segments.
Decision Making.
Action Planning.
Closing.
SECTION THREE: The Facilitator?s Guide to Leading the Retreat.
Chapter 7. Leading the Retreat.
Process or Content Facilitator?
When Should the Facilitator Intervene?
Giving Feedback to Retreat Participants.
Working with Co-Facilitators.
For Internal Facilitators: Partnering with Another Facilitator.
Diversity Issues at the Retreat.
Encouraging Participation.
Changing the Plan.
Chapter 8. Helping Participants Make Decisions and Plan for Action.
Methods of Decision Making.
Types of Retreat Decisions.
The Nub: Action Planning.
Chapter 9. How to Recover When Things Go Awry.
A Few Participants Dominate the Discussions.
The Group Keeps Wandering Off Task.
The Group?s Energy Is Flagging.
A Participant Keeps Plowing the Same Ground.
A Participant Repeatedly Disrupts the Conversations.
A Senior Manager Violates the Ground Rules.
People Are Misusing Humor.
A Participant Is Overtly Hostile or Refuses to Participate.
?I?m Outta Here?: A Participant Walks Out.
The Boss Gets Furious or Bursts into Tears.
Participants Are Resisting New Ideas.
An Intense Conflict Breaks Out.
A Participant Breaches Another?s Confidence.
SECTION FOUR: The Facilitator?s Activity Manual.
Chapter 10. Leading a Strategic Planning Retreat.
Elements of Organization Strategy.
Mission, Vision, or Purpose?
Activity: Exploring Strategic Purpose.
Discerning the Organization?s Values.
Activity: Looking at Our Values.
Understanding the Environment.
Activity: Glimpses into the Future.
Activity: Rating Resources.
Activity: Our Stable of Clients or Resources.
Activity: Prioritizing Constituencies.
Activity: Distinctive Competencies.
Evaluating Work Processes.
Planning for Action.
Prioritizing Among Goals.
Activity: Targeting Core Priorities.
Checking Against Resources.
Activity: Resource/Impact Matrix.
Devising Strategies.
Testing Strategies.
Chapter 11. Leading a Culture Change Retreat.
Great Expectations: What Can Realistically Be Accomplished at a Retreat.
Activity: Visit Our Village.
Activity: Timeline of Our History.
Activity: Significant Stories.
Working with Sensitive or Controversial Issues.
Activity: Silent Dialogue.
Reward Structures Help Shape Culture.
Activity: What Gets Rewarded Here?
How Individuals Foster Cultural Change.
Recognizing and Removing Obstacles to Change.
Activity: Obstacle Busters.
Feedback for Senior Executives (and Others).
Activity: Metaphorical Management.
Chapter 12. Leading a Relationship-Building and Teamwork Retreat.
If You?re Asked to Lead a ?Teamwork? Retreat.
Exploring How Things Are and How Participants Would Like Them to Be.
Activity: Vehicle for Change.
Clarifying Individuals? Roles and Responsibilities.
Improving Work Processes.
Activity: Decorations Factory.
Strengthening Communication.
Activity: How We Communicate.
Exploring the Importance of Feedback.
Activity: Snowball.
Probing for Sources of Conflict.
Activity: How Conflict Affects Us.
Activity: Taking Responsibility.
Exploring How Individuals Can Change Their Own Behaviors.
Activity: Star Performers.
A Special Case: A Peers-Only Retreat to Call a Cease Fire in Interdepartmental Turf Battles.
Chapter 13. Leading a Creativity and Innovation Retreat.
Activity: Wide Open Thinking.
Activity: Really Bad Ideas.
Minimizing ?Groupthink?.
Activity: Impressions.
Cultivating the Creativity Habit.
Activity: Isolated Words.
Activity: Multiple Perspectives.
Activity: Expert Opinion.
Letting Go of Judgment.
Activity: Considering Risk.
Chapter 14 Closing the Retreat.
Activity: The Messy Room.
Activity: Top Priorities.
Activity: Closing Thoughts.
Activity: Letter to Myself.
Activity: Appreciation.
Activity: Expectations and Outcomes.
Activity: The Road We?ve Traveled.
Writing the Follow-Up Report.
EPILOGUE: The Convenor?s Guide to Keeping the Work of the Retreat Alive.
Chapter 15. Assuring That the Action Plan Is Implemented.
Announcing Retreat Outcomes.
Translating Decisions into Action.
Avoiding Post-Retreat Letdown.
The Role of Senior Management.
Changing Cynicism to Support.
Making the Plan Stick.
Look Ahead, Plan Ahead.
Afterword.
Appendix.
References.
About the Authors.
Index.
"The book offers a number of exercises that can be incorporated into retreats to insure they achieve their goals." (
Business Times
, March 2003)
"Get ready to dog-ear." (Successful Meetings, March 2003)