Retroactive 1 NSW Australian Curriculum History Stage 4: The Ancient World to the Modern World eGuidePLUS (Online Purchase)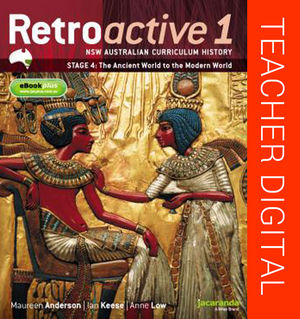 Retroactive 1 NSW Australian Curriculum History Stage 4: The Ancient World to the Modern World eGuidePLUS (Online Purchase)
ISBN: 978-1-118-59930-3
Feb 2014, Jacaranda
440 pages
Product not available for purchase
Description
eGuidePLUS
Retroactive 1 NSW Australian curriculum History Stage 4: The Ancient World to the Modern World eGuidePLUS is a must-have teacher resource. In addition to the full content of the student eBookPLUS, the eGuidePLUS provides suggested responses for all student text and worksheet activities, plus answers to end of topic interactive quizzes and crosswords. Teaching notes, syllabus links and full curriculum grids, together with sample teaching programs, provide comprehensive support for teachers in their planning and implementation of the new NSW syllabus for Australian curriculum History.  

What is onlinepurchase?
Onlinepurchase is a Jacaranda digital only product.
Following payment you will receive a registration code via email.
Go to www.jacplus.com.au to register your code and access your digital resource.
DEPTH STUDY 1: Investigating the ancient past
Topic 1 - Investigating the ancient past
OVERVIEW: The Ancient World
Overview 1: 
The Ancient World
DEPTH STUDY 2: The Mediterranean World
Topic 2a - Ancient Egypt
Topic 2b - Ancient Greece (online only) 
Topic 2c - Ancient Rome
DEPTH STUDY 3: The Asian World
Topic 3a - Ancient India (online only) 
Topic 3b - Early Imperial China
OVERVIEW: The Ancient to the Modern World
Overview 2: 
The Ancient to the Modern World
DEPTH STUDY 4: The Western and Islamic World
Topic 4a - The Vikings 
Topic 4b - Medieval Europe 
Topic 4c - The Ottoman Empire 
Topic 4d - Renaissance Italy (online only) 
DEPTH STUDY 5: The Asia-Pacific World
Topic 5a - The Angkor/Khmer Empire (online only) 
Topic 5b - Japan under the Shoguns 
Topic 5c - The Polynesian expansion across the Pacific 
DEPTH STUDY 6: Expanding Contacts
Topic 6a - Mongol Expansion (online only) 
Topic 6b - The Black Death in Asia, Europe and Africa (14th-century plague)
Topic 6c - The Spanish Conquest of the Americas (c. AD 1492 – c. 1572)
Topic 6d - Aboriginal and Indigenous Peoples, Colonisation and Contact History